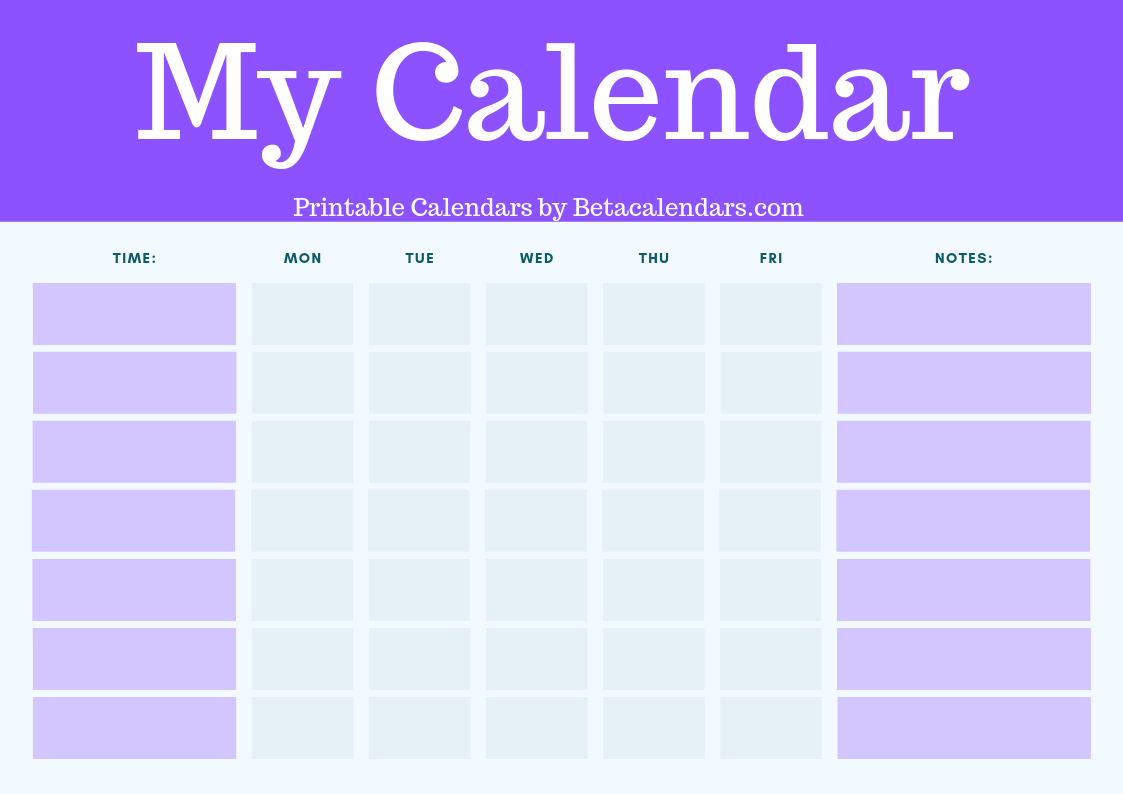 Printable Calendar
The printable calendar is the savior of everyone and the best friend you can never give up once you meet. Our lives are very busy, fast and moving. We have a lot of responsibilities to keep in mind, from the exam week at school to the daily tasks at home, from preparing for important meetings to a project presentation, we usually have to know some important dates very well to prepare for them a few days, weeks or even months in advance.
Not everyone has to keep everything in mind, it is very important for us to benefit from technology in our age to live a more comfortable and simple life, to create more free time and spend more time with our loved ones. Isn't it nice to see what we will do that day, that week, that month and ultimately that year on our table or on our wall, every day, every night or every morning clearly? This is very important for us to see the big picture, that is, to review what we have already done and what haven't been able to do that year at the end of the year or whether we have achieved the goals we set in the beginning of the year.
Now let's take a look at the values that the printable calendar will bring to our lives.
Why Do We Need A Printable Calendar?
There are many answers to this question. Let's take a look at what a printable calendar can change and improve in our lives:
The Calendar Allows Us to Plan
Keeping your daily activities on your calendar frees you from a lot of mind load. Even if you have simple tasks such as paying a school installment or a gym fee or having your annual checkup, the question of "what was I going to do today?" should not keep your mind busy when you wake up in the morning. In addition to recording these simple daily activities, you can also save important meetings, events, or dates that you need to attend, track, or remember throughout the year. If you record everything on your calendar, especially your printable calendar, just look at it a few days in advance and remember that event. If you follow this easy way and keep a printable calendar, you'll be extremely planned, programmed and thoughtful for "remembering" and "achieving" everything.
Keeping A Calendar Makes It Easy to Track Events
Let's say there are culture and art events or trekking activities, country visits or city tours that we want to attend during the year, or let's say we want to attend a workshop or course that we can't create time every year. We have invitations organized by our family or friends, we have anniversaries, business lunches, hello to Summer, goodbye to Winter parties, or school graduations. It is very likely to miss or forget dozens of events like these. The most accurate and logical thing to do is to record them, distribute them to the year, and fill them in a printable calendar. When you look at it, you will see that you are really busy, very social, very cultured and also very popular. Just to see this big picture and not waste a day, you can take advantage of the miracle of a printable calendar.
To Keep A Calendar Increases Your Productivity
One of the biggest secrets of hardworking and productive people is living with the calendar. If you already know the importance of living with the calendar, you are one of those hardworking people. No matter what they do, if anyone thinks they can't achieve the efficiency they want, be careful here: The good news is that calendars increase productivity! If you are planning your day, week, month and year, you will only run to goal and success, without thinking about plans and tasks, dedicated and focused. People who don't have a printable calendar say, "What would I do today?" As you think, you can look at your calendar while you drink your coffee and dive straight into the day! And because you're planning all your time, you get the most out of your business and you deserve more breaks. Doesn't that sound good?
You Won't Miss Any Deadline If You Keep Calendar
Delivery deadlines are now part of our lives. Everything is fast, all tasks and goals are connected together. Every business has an expiration date, such as expiration dates on food packages. Globalization has focused us more on time, we cannot deny this fact. However, it is important to catch this fast-flowing time, not to eliminate it in this way, not to be out of the game. Let's say it directly: If you have a printable calendar, you can save the end date of each job on the calendar. The calendars are the perfect tool for "masters" of missing deadlines. A calendar of deadlines offers you both focus and convenience. It reminds you that you need to be comfortable and follow the line. Isn't that great? You can also customize delivery dates on your calendar as you like. It requires a skeleton head or plenty of smiley faces. You can even make the calendar fun and colorful. You can add your own alarm and comfort colors on a daily or weekly basis to draw attention to your printable calendar. In the end, you put a nice tick mark on the jobs you have completed. That's the fun part!
Acquiring New Habits Is Easy with A Printable Calendar
The most important step in acquiring a new habit is to apply it regularly. The biggest help to be "regular" is nothing but a calendar. Let's say you're a little concerned about your health or your weight, and all the articles you read tell you that you should take a regular walk every day. When the motivation is at its peak, it is easy to apply this decision regularly on the first day, second day and third day. However, on the fourth day, motivation usually begins to decline. At this point, "you need to go for a walk today!" may need someone to say. This is nothing but a printable calendar that will tell you. Yes, calendars are mute, but they can sometimes talk to you. Alerts you if you type "walk" on each day in the calendar. No matter what you do, the calendar puts such pressure on you for a walk of at least half an hour each day. You can't ignore it, you want to put a nice "done" sign on that day. Here is the health benefit of the calendar 🙂 Sure, these habits or goals do not necessarily have to be related to health. We can replicate the samples, for example, you can get a new habit in everything you want, such as watching 20 movies a month, reading 3 books a week, doing regular piano studies, solving exam preparation tests, and improving your existing skills so that you can easily use the printable calendar for all these pleasant purposes.
Your Printable Calendar Lets You Remember Special Days
Let's come to one of the topics that will free you from a huge burden and make you a hero. Yes, tasks, habits, goals and productivity are very important, but what about birthday celebrations? What about anniversary surprises? What about public holidays? Of course, we do not forget the special days of the important people in our lives, the days we get married or meet our spouse, the special holidays that give us short breaks, but "time" or "technology" can make fun of us! We may be very busy or our phone may not remind us of the dates in some way, so we forget that the day that starts when we wake up in the morning is "that day". In such cases, the calendar works flawlessly for our help. When we look at the calendar at the beginning of the day, the only way to find out what happened that day is to put a good sign in advance. From that point on, everything depends on your creativity, whether it be a surprise party, a thoughtful gift, a hotel reservation or a phone call. These are small but very valuable things. And yes, the printable calendar helps you a lot for these valuable reminders.
As you can see, the printable calendar is much more than a piece of paper with boxes with dates. It allows you to take action, it assists you, motivates you, and supports you to become a much more planned and organized person. Once you start using it, you will see that it will always be your biggest helper and motivation source that you are always looking for and want to apply for. So, get your printable calendar now and don't deprive yourself of these valuable benefits!
If you are looking for a printable calendar, you're on the proper path. Additionally, a printable calendar permits you to plan for events way beforehand. All you'll need is a 2019 printable calendar that may be found almost everywhere
online.
Different sort of calendars are offered on the net, but we always work to serve the ideal stuff to you. The calendars are offered on the net also where it's possible to discover many calendars in different-different colours and designs.
The unbelievable portion of our printable calendar can be found in the format! A well-designed printable calendar will be able to help you keep an eye on your day-to-day events.The calendars are provided on the Betacalendars.com in bulkiness that makes you able to choose an absolute best calendar for the whole year along with month wise.
Beta Calendars offers you a free monthly calendar with 4 different templates for each month.We have several calendar formats which are suitable for almost every purpose.
You can also create your own calendar by marking important days or events using blank calendars. If you are looking for a yearly calendar for the year 2021, we offer you 4 perfect 2021 calendar templates. You can download all calendars in PDF or JPEG format.
Printing a calendar with Beta Calendars is easy, Easier to download and fun to share with your friends or family members. No specific course is required to understand the process; it is one click and done process for every website visitors. Be it a novice or a expert. All Calendars are accessible for all. We also added new planners to our service. You can reach our weekly and monthly planners here.
History Of Calendar
The timeframes in the calendar can be determined by the cycle of some astronomical events such as the sun and the moon cycle, as well as the harvesting time, the rise and withdrawal of the waters. Many civilizations and communities have developed model calendars that are tailored to their specific needs. Most Gregorian and Hijri calendars are used in the world. Gregorian calendar takes the birth of Jesus as its beginning. Also, it prepared according to the Sun.
Calendar systems
A full calendar system has a different calendar date for every day. Thus the week cycle is by itself not a full calendar system; neither is a system to name the days within a year without a system for identifying the years.
Cycles can be synchronized with periodic phenomena:
Lunisolar Calendars
Lunar Calendars
Solar Calendars
For more info: Wikipedia
Historical and Regional Calendars:
Hijri calendar
Mayan
Aztecan
Egyptian
Mesopotamian
Iranian
Hindu
Buddhist
Pre-Columbian Mesoamerican
Hellenic
Julian or Gregorian-derived.
Please feel free to contact us if you need any further information regarding printable calendar.