Blank December 2019 Calendar Printable
December – 12th Month of the Year
December is a month filled with love, humanity and gift giving events such as Christmas Eve, Christmas Day and New Year Eve. December is also a month to make you think about the new beginnings and decision, and also it is a great time to think what is done and passed through this ended year. In this article, we shared the December 2019 calendar. You can download and print free PDF and JPG formats.
The astronomical winter (in Northern Hemisphere) begins Friday, 21 December 2019 and lasts until Wednesday, 20 March 2019. You may celebrate the beginning of winter by taking a sleigh ride together with your loved ones, going out on the ski slopes. To have some romantic winter fun together as a couple may also be an idea.
December brings Christmas, which is an annual commemoration of the birth of Jesus Christ. Also, it is a widely observed holiday, celebrated generally on December 25 by billions of people around the world. Also, there is New Year's Eve, the last day of the year, on December 31. In many countries, New Year's Eve is celebrated at evening social gatherings, where many people dance, eat, drink and watch fireworks to mark the new year. The celebrations generally go on until the early morning of January 1.
A wonderful month filled with December celebrations, as you can see (and of course you know and expect enthusiastically). Yes, the weather is cold but the faces are laughing, the houses are full, the meals are exquisite, the fireplaces are burning, the children are happy.
Blank December

2019 Printable Calendar
The holiday season has abstracted you from work and daily work, you need it. Now it's time to know the value of these days and plan to get the maximum benefit from December. For this, your biggest assistant should be a printable calendar. Yes, just a calendar, for example a blank December 2019 calendar. Because all of 31 days in December are precious. It has to be passed very well from beginning to end. So, it's the best way to make plans by typing, drawing, marking on a December 2019 calendar template. The empty December days on the calendar are waiting for you. To make it a full, busy but very fun month!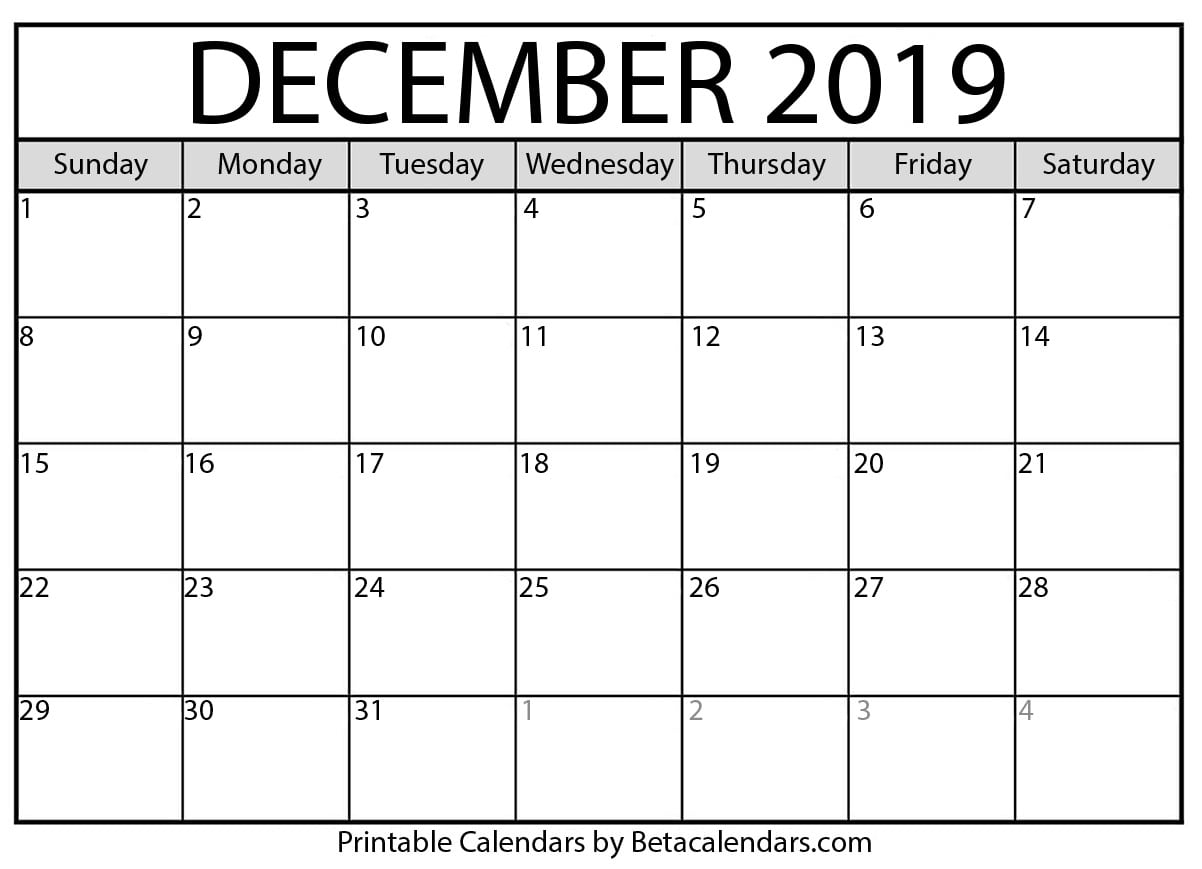 HISTORY OF DECEMBER
December is the 12th and last month of the year in the Julian and Gregorian Calendars. And one of seven months with the length of 31 days. December starts on the same day of the week as September every year and ends on the same day as April every year. It is the month with the shortest daylight hours of the year in the Northern Hemisphere and the longest daylight hours of the year in the Southern Hemisphere. December got its name from the Latin word decem (meaning ten) because it was originally the tenth month of the year in the Roman calendar, which began in March. The winter days following December were not included as part of any month. Later, the months of January and February were created out of the monthless period and added to the beginning of the calendar, but December retained its name.
In both the Gregorian calendar, currently used in the United States, and the Julian calendar, which was used until 1752 in the British colonies, the last day of the year is December 31. In Europe, the mid-winter period was traditionally associated with feasting and parties. In the early years of the American colonies and within the United States, this type of celebration was often frowned upon, particularly by religious communities.
To welcome to the winter season, you may use a PDF, JPEG printable calendar to arrange something fun for this holiday month. A December 2019 calendar with holidays will help you to organize well-designed activities for all the special days of December.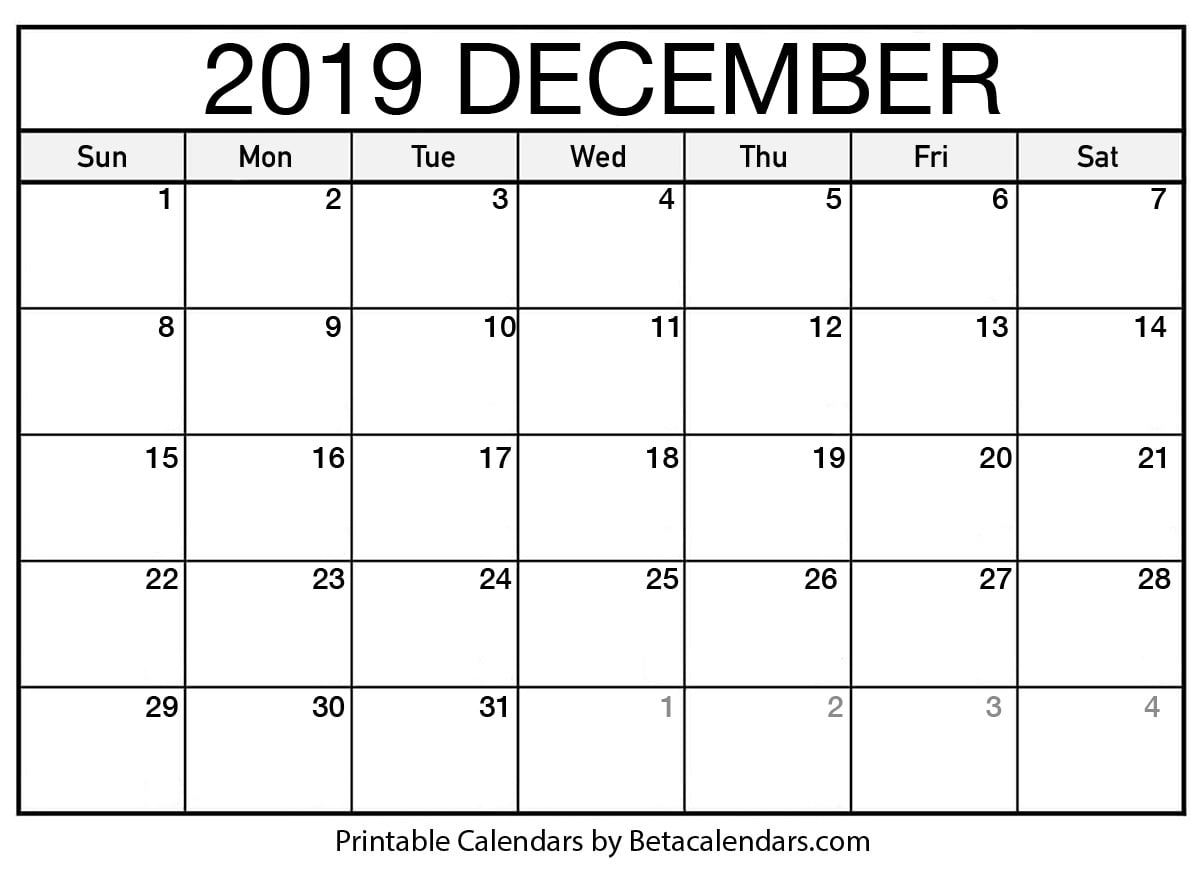 10 FACTS ABOUT DECEMBER
December is the month when most proposals of marriage are accepted. Most proposals happen in the week leading up to Christmas.
In the USA, December is National Eggnog Month, Fruitcake Month and Pear Month.
It is the first month of winter and the last month of the year.
The first day of Winter is on either December 21 or 22. This is the shortest day of the year and the longest night. It is called the Winter or Southern solstice in the Northern Hemisphere.
An almanac prediction states that if snow falls on Christmas Day, Easter will be warm, green and sunny.
"Jingle bells" was composed in 1857, and not for Christmas – it was meant to be a Thanksgiving song!
December 7 is National Pearl Harbor Remembrance Day.
December has three birthstones: Turquoise, Zircon and Tanzanite. The birth flowers of December are narcissus and holly.
Fewer children are born in December than other months. December is part of a four-month cycle between November and February where the birth rate worldwide drops, reflecting many couples' choice to avoid the holiday season when planning their pregnancies.
World's AIDS Day is celebrated on December 1st.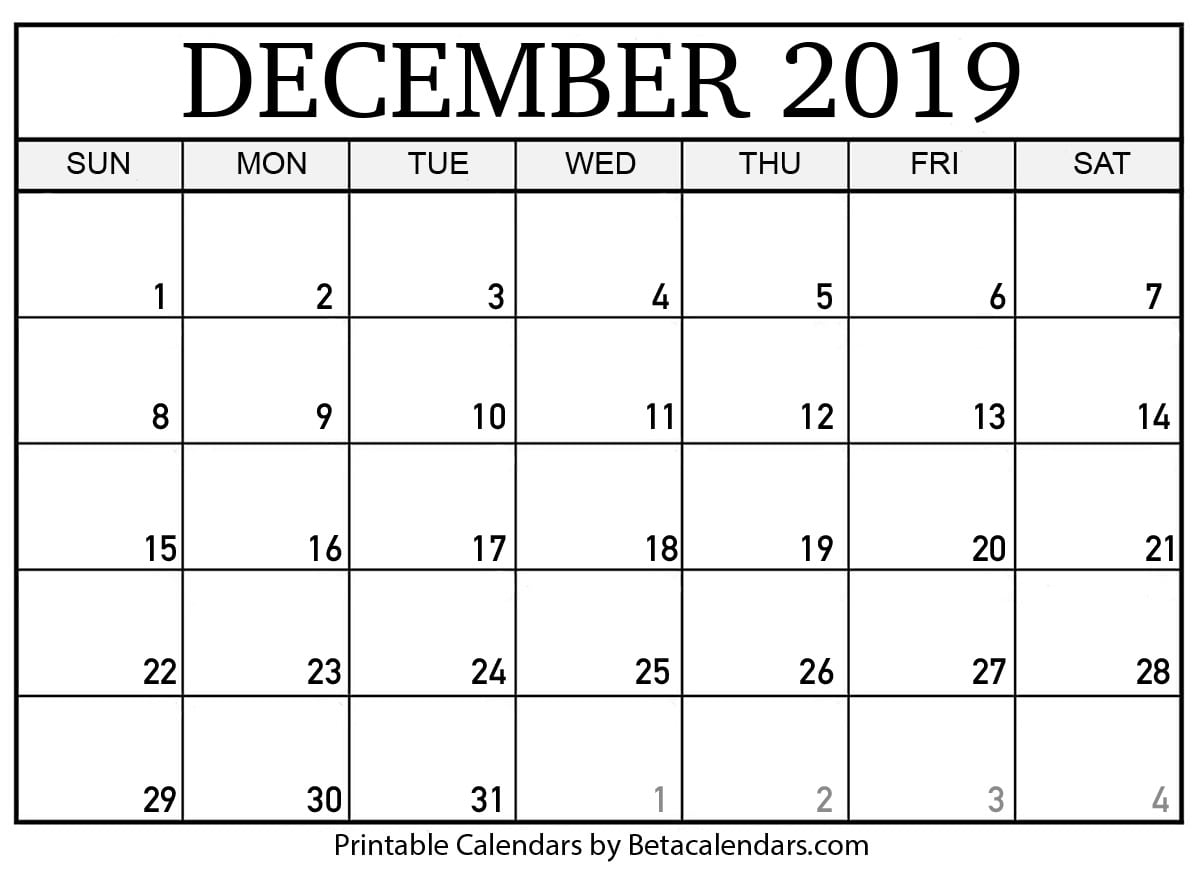 DECEMBER HOLIDAYS IN THE UNITED STATES
Christmas Day (December 25th, Friday)
Christmas Day is observed on the 25th of December in the United States. The festive season traditionally begins on the fourth Thursday in November, just after the Thanksgiving holiday. On Thanksgiving Day, a parade is organized in New York City that has the smiling figure of Santa Claus in it. It shows the beginning of the Christmas shopping season. Department stores, shopping malls and small shops get ready for the season to attract shoppers and get them to spend time and money on Christmas trees, gifts, apparels, greeting cards and suchlike.
On the day before Christmas, called Christmas Eve, gatherings adults drink eggnog, a drink made of cream, milk, sugar, beaten eggs and brandy or rum. After dinner on Christmas Eve, children go to bed early but not before hanging up their stockings on the fireplace or the end of their bed to be filled with gifts and goodies by Santa Claus. On the following morning, children wake up to look for their desired gifts in their stockings and also find sweetly wrapped presents under their Christmas tree.
In the final days leading to December 25, small evergreen trees are seen to be established in every home and beautifully decorated with colored lights, tinsel, angels, stars and bright ornaments. The exterior of houses is decorated with lines of electric lights. Strings of electric lights are used not only at individual homes but also of public/commercial buildings, offices and departmental stores. They have also Santa figures, reindeers and snowmen on their lawns and roofs. Many churches and private homes display illuminated Nativity Scenes commemorating the birth of Jesus Christ.
Family members from near and far usually unite on Christmas Day for an annual Holiday feast. When invited to a family Christmas celebration, a small gift for the entire family will be great. If there are young children in the family, small gifts of sweets or toys are always welcomed.
The Christmas dinner in the U.S. includes turkey or ham, potatoes and pie. Cakes are of course, a must for an after dinner. The menu also consists of a lot of desserts such as the "Crostoli," a fried bread spiced with orange peel or the "Pfeffernuesse," a bread full of sweet spices or the "Berlinerkranser" – a Norwegian wreath-shaped cookie. Baked breads and cookies are also part of the dinner list.
We know you never forget but, just book the date of Christmas Day on your December 2019 calendar printable and start to plan your celebration in advance.
New Year's Eve (December 31st, Tuesday)
New Year's Eve is annually celebrated on December 31 which is the last day of the year with many parties are held, particularly in the evening.
New Year's Eve is a major social holiday for many people in the United States. Generally new year welcoming parties are organized at home or attend special celebrations somewhere else. In many cities, large scale public events are held. These events often attract thousands of people. A particularly striking aspect of the New Year's Eve festivities is the ball drop in Times Square in Manhattan, New York City. The ball is made of crystal and electric lights and is placed on top of a pole, which is 77 feet, or 23 meters, high. At one minute before midnight on December 31, the ball is lowered slowly down the pole. It comes to rest at the bottom of the pole at exactly midnight. The event is also shown on television across the United States and around the world for people who couldn't attend it. The event has been held every year since 1907, except during World War II.
Across the United States a range of cities and towns hold their own versions of the ball drop. A variety of objects are lowered or raised during the last minute of the year. The objects are usually linked to an aspect of local history or industry. Examples of objects 'dropped' or raised in this way include a variety of live and modeled domestic and wild animals, fruit, vegetables, automobiles, industrial machinery, a giant replica of a peach (Atlanta, Georgia), an acorn made of brass and weighing 900 pounds (Raleigh, North Carolina) and ping pong balls (Strasburg, Pennsylvania).
December 31 is not a federal holiday, but it does fall in the holiday season at the end of the year. It is a holiday in some states like Kentucky, Michigan, and Wisconsin. Most schools and other educational institutions throughout the United States are closed. Some organizations are closed and others are open but offer limited services.
If you want to prepare for New Year's Eve before the shopping centers and roads become crowded, do not forget to mark this day on your blank December 2019 calendar!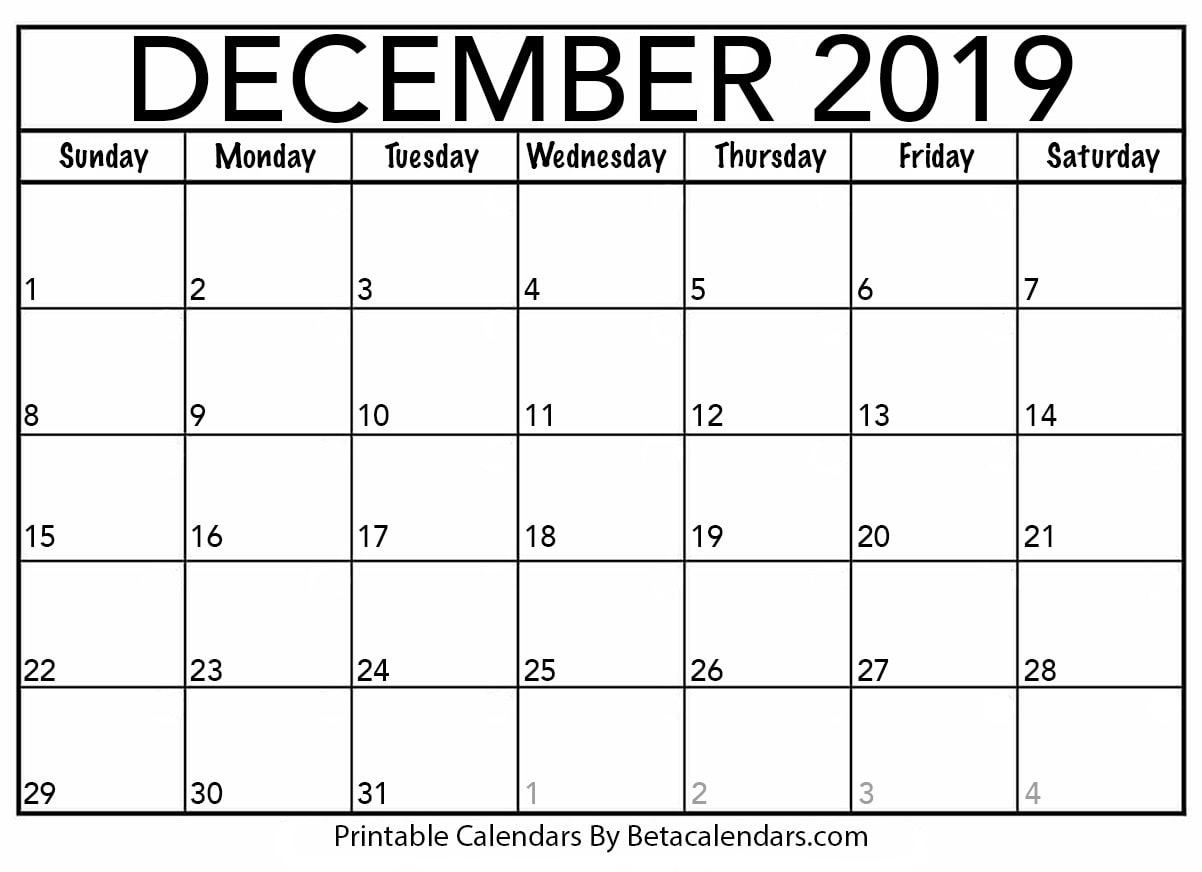 DECEMBER BIRTHSTONE
TANZANITE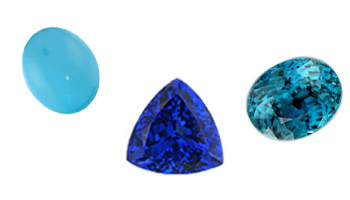 Image Credit: AmericanGemSociety
FAMOUS BIRTHDAYS IN DECEMBER
December 16, 1770 – Ludwig Van Beethoven who was one of the greatest composers the world has ever had was born in Bonn, Germany.
December 5, 1901 – Walt Disney who was one of the most prolific and innovative creators that the world of animation can boast of was born in Chicago, Illinois.
December 2, 1923 – American-born Greek soprano Maria Callas who was one of the most famous opera-singers of the 20th century was born in Manhattan, New York.
December 1, 1935 – Woody Allen who is an American screenwriter, director, actor & musician with his career spans across five decades was born in The Bronx, New York.
December 8, 1943 – Jim Morrison who was a legendary American rock singer was born in Melbourne, Florida.
DECEMBER IN HISTORY
Would you like to take a look at the major December events in history before you filled out your own December 2019 calendar template with events that are important to you?
December 11, 1997 – 150 countries agreed at a global warming conference in Kyoto, Japan (Kyoto Protocol)
December 13, 1950 – James Dean who is still unknown at that time appears in a Pepsi commercial.
December 17, 1989 – Two years after making their first appearance in short episodes on The Tracey Ullman Show, The Simpsons debuted as a half hour series on the Fox network.
December 14, 1972 – Commander Eugene Cernan became the last man to walk on the Moon.
December 19, 1997 – The movie "Titanic" opened in American theaters.