Blank May 2020 Calendar Printable
May – Fifth Month of the Year
May is the fifth month of the year in the Julian and its predecessor Gregorian Calendar and the third of seven months to have a length of 31 days. Late May typically points the start of the summer vacation season in the United States which ends on Labor Day, the first Monday of September.
May is the last month of spring in the Northern Hemisphere and autumn in the Southern Hemisphere. Therefore, May in the Southern Hemisphere is the seasonal equivalent of November in the Northern Hemisphere. In May, the winter season in the Southern Hemisphere and the summer season in the Northern Hemisphere are about to begin.
In May, warm and smooth weather spurs people on to participate in nature activities, concerts and open-air events.  May is also the time that moms around the world get showered with love for Mother's Day. But, without question, the most popular holiday in May in the U.S. is Memorial Day, the national holiday that is also known as the unofficial start to summer. There are also lesser-known observances celebrated relatively by lesser-crowded in May apart from those. There are month-long observances like National Photo Month, week-long observances like Youth Traffic Safety Month, and the Star Wars "May the Fourth" holiday revered by sci-fi fans the world over.
As old idiom says "April showers bring May flowers", in May do not stick on the mood which makes you think you are late for achieving your goals. You are in a mood of spring and spring is tricking you to break the diets and slow down the exercises.
Blank May 2020 Printable Calendar
It usually happens. We may have difficulty in keep on track, but we should continue to be planned and aware that, a period of discomfort can provide the basis for a period of happiness and joy, as the meaning of the idiom above says. Keep on using the printable calendar, download a new May 2020 calendar template and plan your days as you wish. Remember, this is the month that open-air activities, festivals, weddings and trips begin and you need to scheduled everything well to catch all of them with ease. It is not late, just download a May 2020 calendar with holidays and enjoy your May!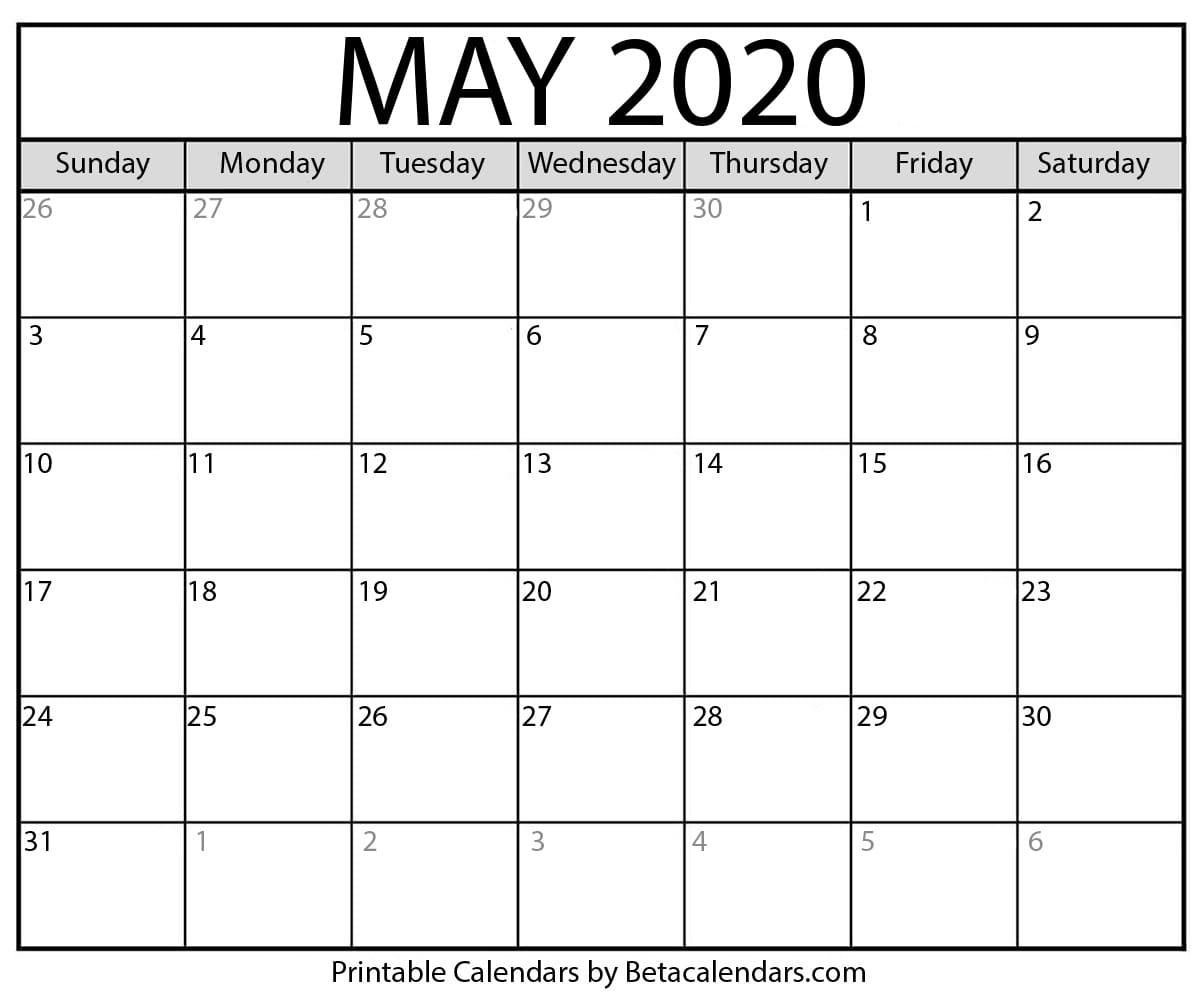 HISTORY OF MAY
The month of May (in Latin, Maius) was named for the Greek Goddess Maia, who was identified with the Roman era goddess of fertility, Bona Dea, whose festival was held in May.
Conversely, the Roman poet Ovid presents a second etymology that the month of May is named for the maiores, Latin for "elders" and that the following month (June) is named for the iuniores, or "young people".
Mayovka, in the context of the late Russian Empire, was a picnic in the countryside or in a park in the early days of May, hence the name. Eventually, "mayovka" (specifically, "proletarian mayovka") came to mean an illegal celebration of May 1 by revolutionary public, typically presented as an innocent picnic.  Moreover, special devotions to the Virgin Mary occur in May.
As the important astronomical events, Eta Aquariids meteor shower appears in May. It is visible from about April 21 to about May 20 each year with peak activity on or around May 6. The Arietids shower from May 22 – July 2, and peaks on June 7. The Virginids also shower at various dates in May.
If you download a PDF, JPEG printable calendar, you will be able to use it in many different ways such as scheduling your month, to mark your important days and to put some goals to the upcoming days.  By using a blank May 2020 calendar, you definitely will feel more comfortable as you may see your near future clearer!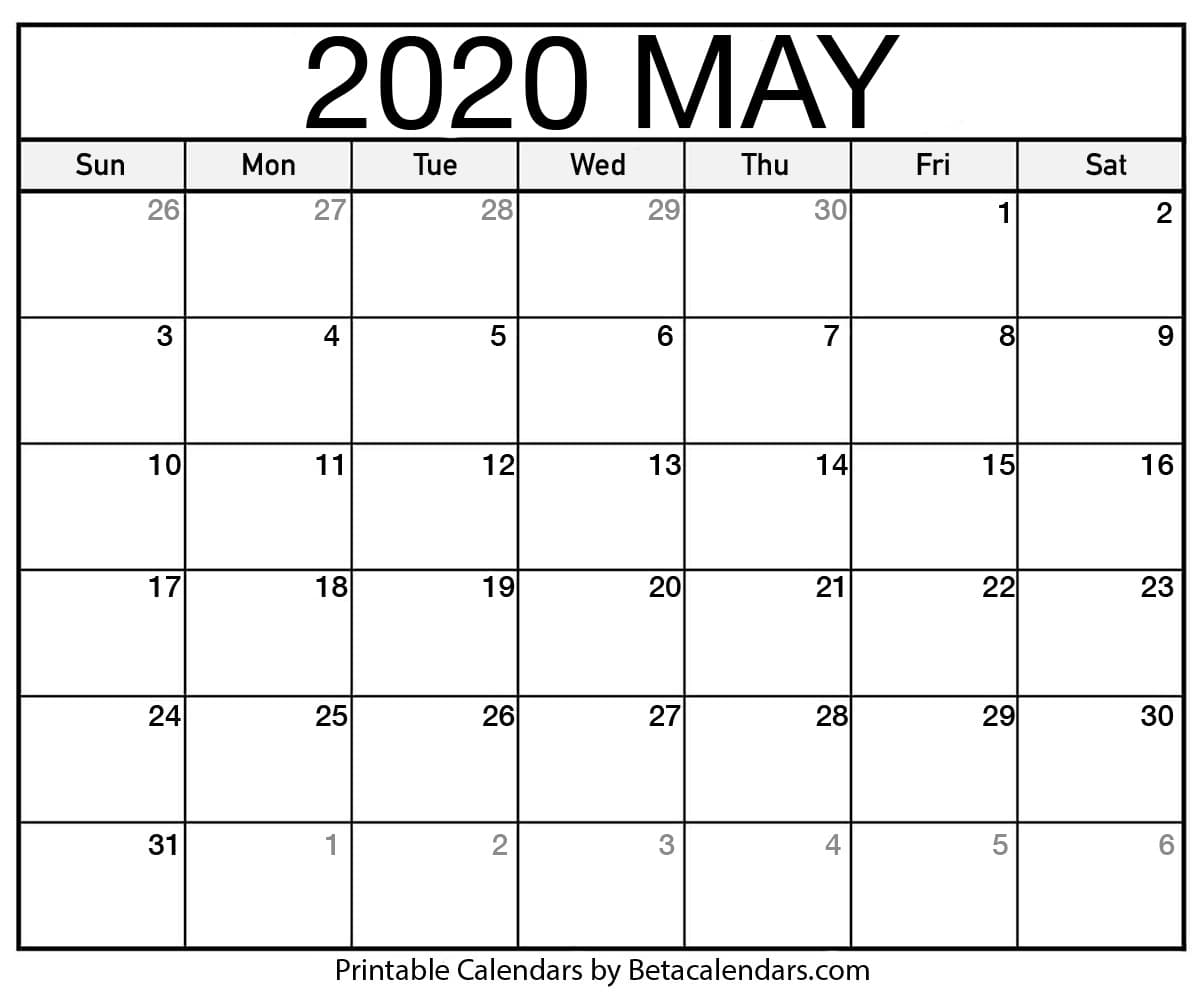 10 FACTS ABOUT MAY
In any given year, no month ever begins or ends on the same day of the week as May does.
The two flowers of May are the hawthorn and the lily of the valley and May's birthstone is the emerald which is emblematic of love and success.
May was once considered a bad luck month to get married. There is a poem that says "Marry in May and you'll rue the day".
According to an analysis by Google, 'may' is the 55th most commonly used word in English.
No US President has ever died in May. It is the only month that can make such a claim.
In Hawaii, May 1 is celebrated as Lei Day. Leis are garlands or wreaths that are often made with native Hawaiian flowers and leaves.
In Old English May is called the "month of three milkings" referring to a time when the cows could be milked three times a day.
The Indianapolis 500 car race is held each year during this month.
Superstition says that you shouldn't buy a broom or wash a blanket in May. Because, "Brooms bought in May sweep the family away." and "Wash a blanket in May, wash the family away." 🙂
May is traditionally devoted to the Blessed Virgin Mary in Roman Catholic traditions.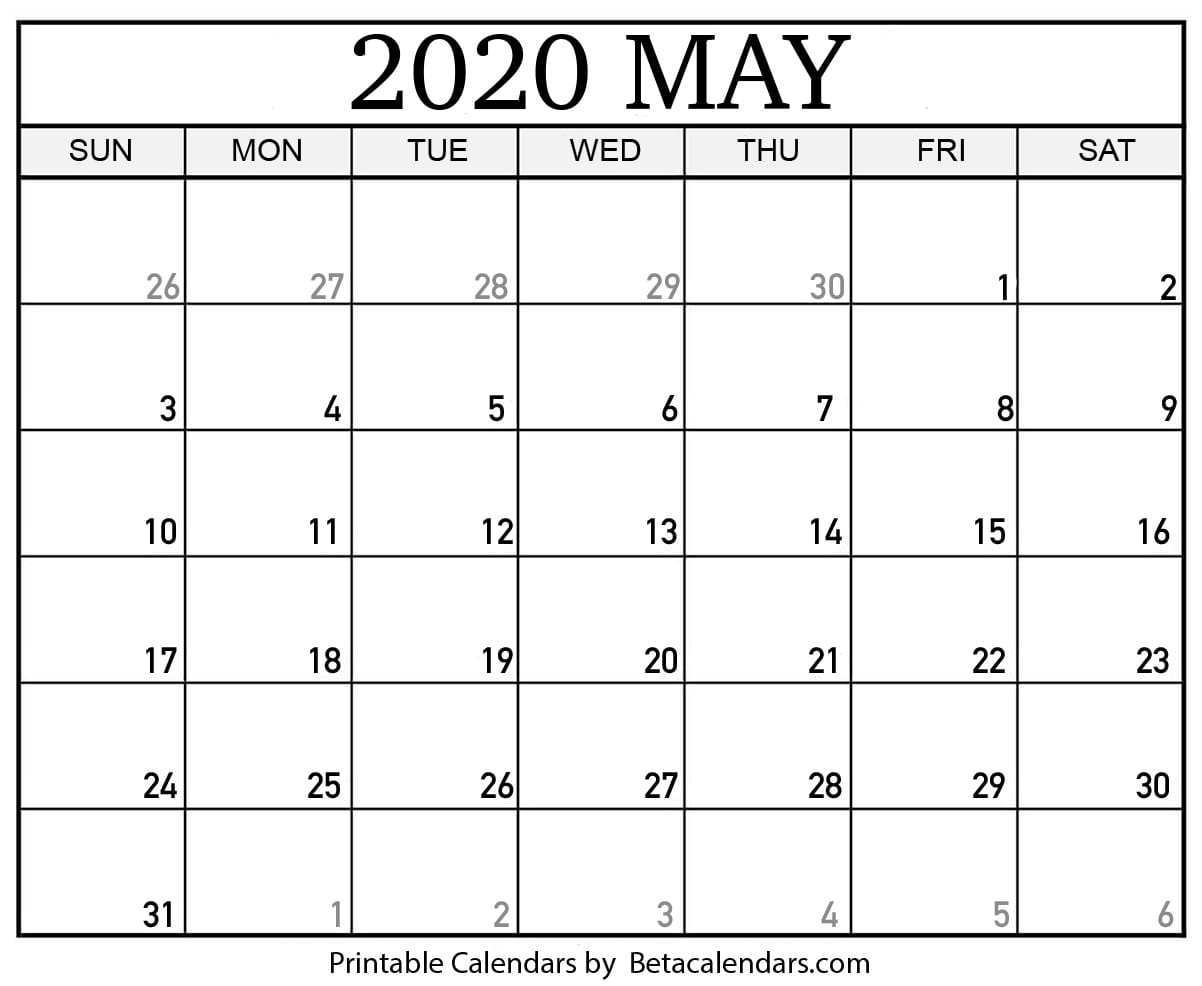 MAY HOLIDAYS IN THE UNITED STATES
Mother's Day (the second Sunday of May)
Mother's Day is a holiday celebrated on the second Sunday of May each year. It is a day that commemorates motherhood and appreciates all mothers and mother-figures including grandmothers, great-grandmothers, stepmothers as well as their contribution to society.
Mother's Day was first celebrated in 1908 in Grafton, West Virginia, when Anna Jarvis held a memorial for her mother Ann Reeves Jarvis. Anna Jarvis began a campaign to make the Mother's Day a national holiday and she succeeded in 1914 when the U.S. President Woodrow Wilson proclaimed the second Sunday in May a Mother's Day.
Nowadays Mother's Day is celebrated in more than 150 countries around the world, some at different dates. Many countries, including the USA, Canada, Australia, Japan and many European countries, celebrate Mother's Day on second Sunday of May. On the other hand, in many African countries it is celebrated on 21 March.
This year in 2019 Mother's Day will be celebrated on May 10th 2019, Sunday
It is a wonderful day to commemorate our mothers who have an important place in our lives and to offer our gratitude and love to them. If you want to do something special to this day, do not forget to put a mark on your May 2020 calendar printable this day!
Memorial Day (the last Monday of May)
Memorial Day is a federal holiday in the United States of America that is observed on the last Monday of May. As this is a Federal holiday, most federal and state offices and also schools will be closed and there will be no mail deliveries on this day. Memorial Day is a day of remembrance for those who have died in military service for the United States. Memorial Day was originally called Decoration Day before, as the holiday was concentrated on decorating the graves of those who had fallen in the Civil War. Today Memorial Day is celebrated across the United States. It is widely accepted as an important holiday that remembers those that died for the country, and serves to remind people of the real meaning of war. There are many formal ceremonies is held in Memorial Day. Most of these are organized in local communities which are announced by local Veterans of Foreign Wars office or local city government agency.
Although many cities have claim to have already observed Memorial Day, President Lyndon Johnson officially declared Waterloo N.Y. as the birthplace of Memorial Day in May 1966.
As Memorial Day is always observed on Monday, this creates a three-day time break as also called Memorial Day weekend. The Memorial Day weekend is seen as the unofficial start of summer, and it is a popular holiday enjoyed with outdoor events and picnics.
This year Memorial Day will be celebrated on May 25th 2019, Monday.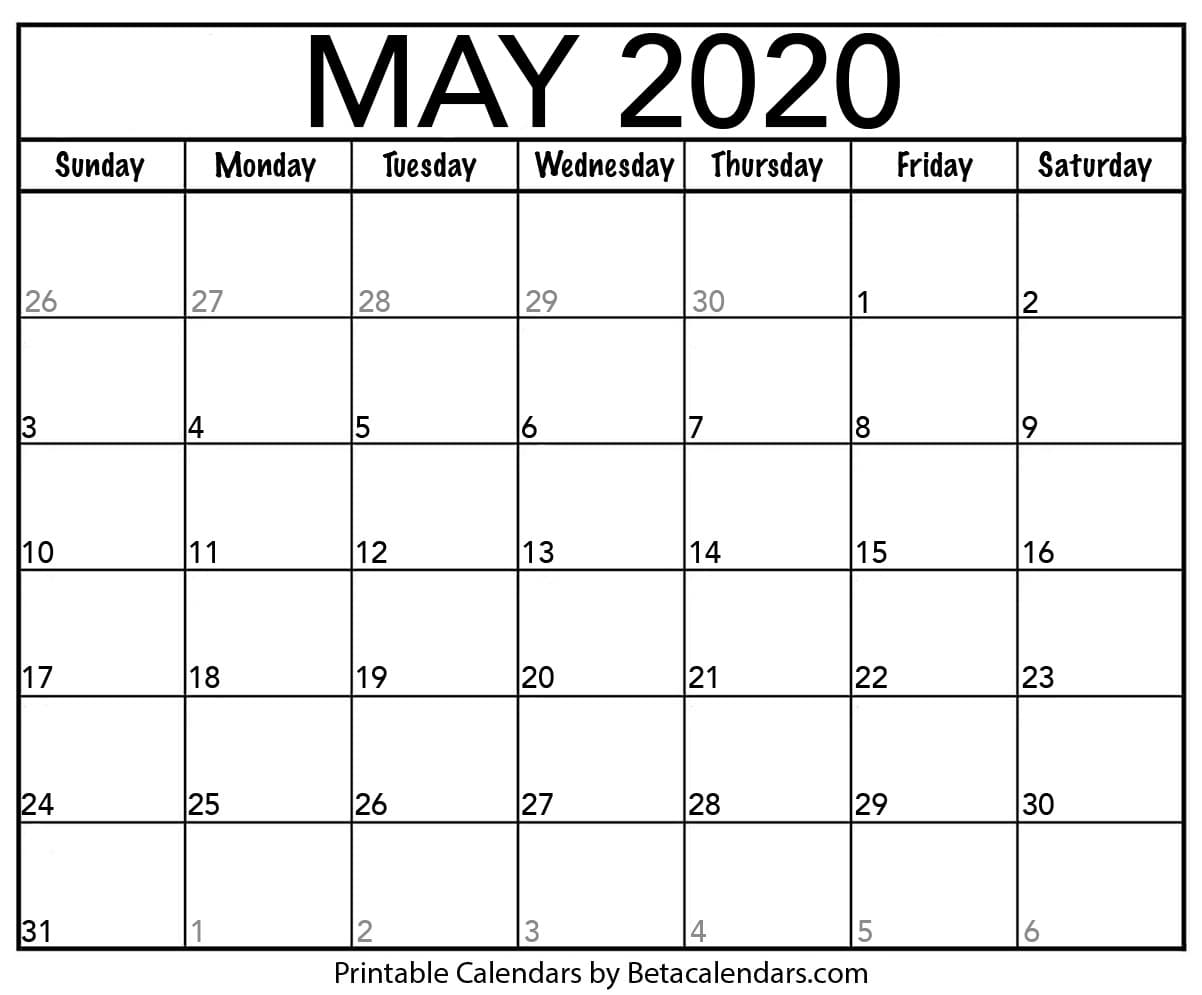 FAMOUS BIRTHDAYS IN MAY
May 29, 1917 – John F Kennedy who was the 35th President of the United States was born in Brookline, Massachusetts.
May 4, 1929– Audrey Hepburn was an actress and best known for her role in the film 'Breakfast at Tiffany's' as Holly Golightly was born in Ixelles, Brussels, Belgium.
May 24, 1941 – Bob Dylan who is an American singer and a major figure in the western pop music was born in Duluth, Minnesota.
May 13, 1950– Stevie Wonder who is an American musician, singer and songwriter was born in Saginaw, Michigan.
May 14, 1984- Mark Zuckerberg who is an internet entrepreneur who co-founded Facebook was born in White Plains, New York.
MAY IN HISTORY
Would you like to take a look at some of the major May events in history before you filled out your own May 2020 calendar template with events that are important to you?
May 8, 1794 – The U.S. Post Office is established.
May 4, 1934 – Academy of Motion Pictures is founded.
May 29, 1953 – Sir Edmund Hillary is on top of the world. He is the first person to reach the summit of Mt. Everest.
May 10, 1969 – The first color pictures of Earth from space are sent back from Apollo 10.
May 14, 1998 – The last episode of Seinfeld is aired. It's a sad day in May for millions of Seinfeld fans and followers.