January Calendar – First Month of the Year
January lasts 31 days and it is considered to be the coldest month of the Northern Hemisphere. The first day of January, January 1st, is an international holiday celebrated in all countries in the world.
January is widely accepted one of the most loved months because it brings the fresh beginning of a brand-new year. It is also a common public holiday for all schools, government offices and official businesses. Plan your first month of the year now using the January 2020 calendar!
The new year begins with January. Therefore, all meanings attributed to the new year include January, even directly to January. It is the month in which new decisions were taken including fresh beginnings or hard giving ups. Because we basically aim to start or end something.
Like starting sports or quitting smoking. Particularly during the holiday period, the foods, gained weights, the drinks, and all the harmful habits push us to think more about our health. Sometimes, we focus on being a completely different person in the new year. It is time for us to feel forgiven and to advance, not to feel guilty. January is the perfect time for change.
It is time to look forward to the future with hope, refreshed after Christmas. And almost everyone tries to make changes, so you're not alone. The fact that your decisions are not implemented consistently is not so important, because January is the trial month. We tend to adapt slowly, we tend to appreciate ourselves. The most hopeful and optimistic time of the year is January.
Blank January 2020 Printable Calendar
Having a printable calendar makes us feel more targeted and planned. So, our first goal for the new year may be to have a January calendar first. You can place the decisions you make, the important days ahead, the celebrations, the meetings, everything in your blank printable calendar. After that, it is enough to control your calendar with a comfortable mind.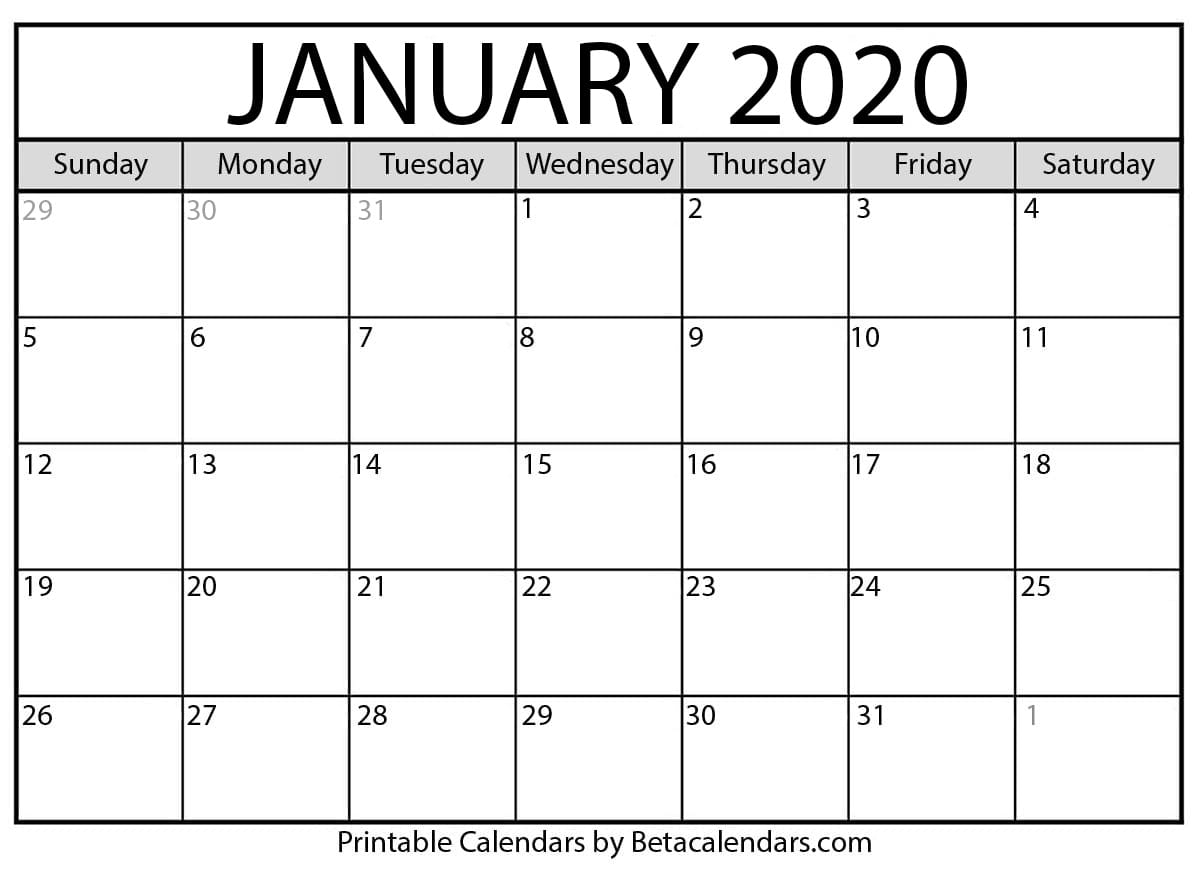 HISTORY OF JANUARY
January is the first month of the year in the both Gregorian and Julian calendars. It is named after Janus, the Roman god of doors, in the western languages. The months of January and February did not take a place in earlier versions of the Roman calendar, which divided the year into 10 months and left 61 days unaccounted for in the winter. They both were added together around 700 BCE to the calendar. Because of it, January and February were initially the last months of the calendar year, which began in March (Martius). However, in 450 BCE, the beginning of the year was moved to January 1.
January originally consisted of 30 days when it was firstly added to the 10-month Roman calendar. However, Julius Caesar added a day to January and made it 31 days long in 46 BCE.
If you download your January 2020 calendar template, you will see that the empty and ready-to-fill month is waiting for you. You may easily manage your schedule and upcoming plans by using blank January 2020 calendar to become more targeted. January is a fresh start and you certainly need a calendar to arrange your days in January 2020 to feel yourself readier to accomplish anything you aimed!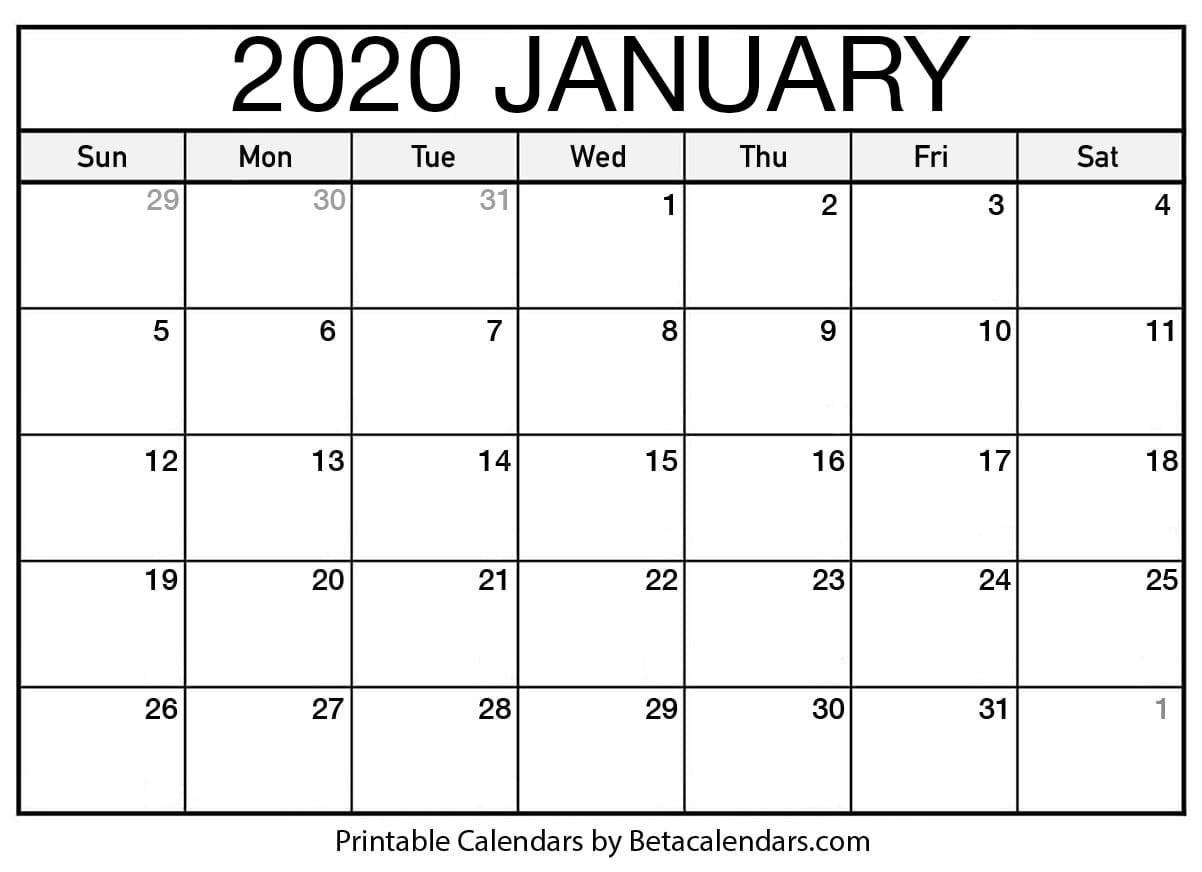 JANUARY FLOWER
                                Carnation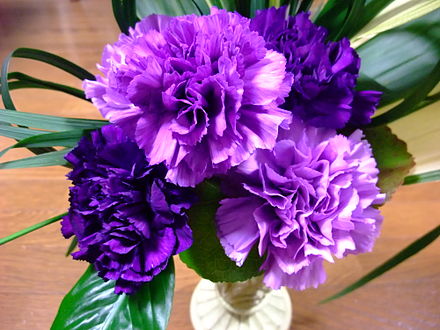 Image credit:Wikipedia
JANUARY BIRTHSTONE
Garnet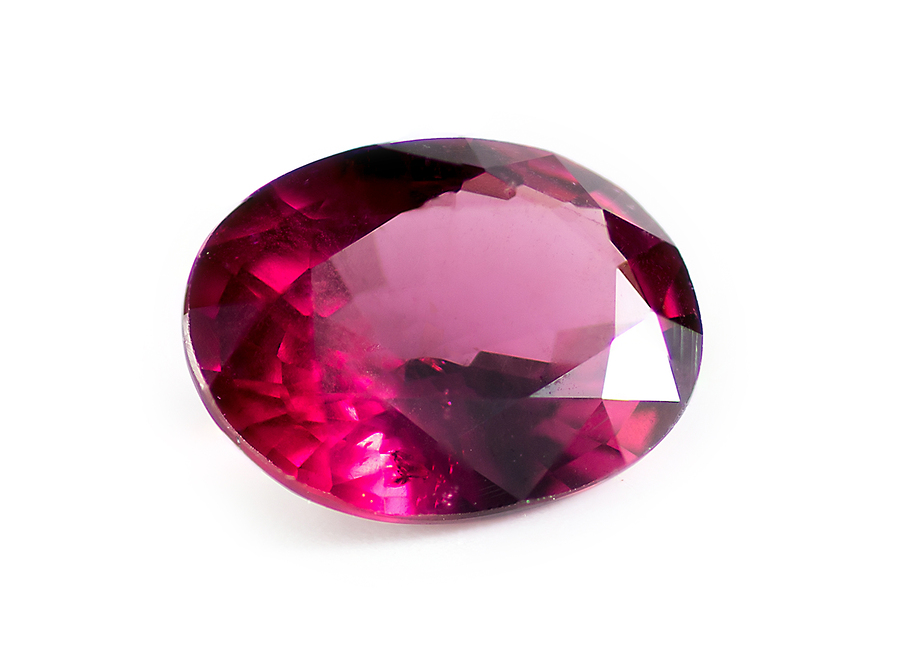 Image Credit: Americangemsociety
  10 FACTS ABOUT JANUARY
The Anglo-Saxons called January "Wulfmonath" as it was the month hungry wolves came scavenging at people's doors.
The Romans named it January after Janus, the God of gateways.
Janus had two heads so he could look in both directions, back at the old year and forward towards the new year, at the same time.
According to the International Standard Organization's ISO 8601, week 1 of any year is the week including January 4.
Daytime temperatures in January make it the coldest month of the year in the Northern Hemisphere.
The birthstone for January is the garnet; the flower is the carnation.
If you need anything to buy (except for Christmas gifts that you have already bought), January is the time to get it. There are sales on everything in January, whatever you want, homeware, clothes, fitness gear, electronics, health supplements… It is time to go shopping!
More couples separate or divorce in January than in any other month.
After the holiday's rush, January weekends become an expanse of space, waiting to be filled up with whatever you want. No more shopping lists, gift research, card writing, decorating, wrapping, visiting or partying!
January is the new seasons of all your favorite TV shows which have taken a break for a while.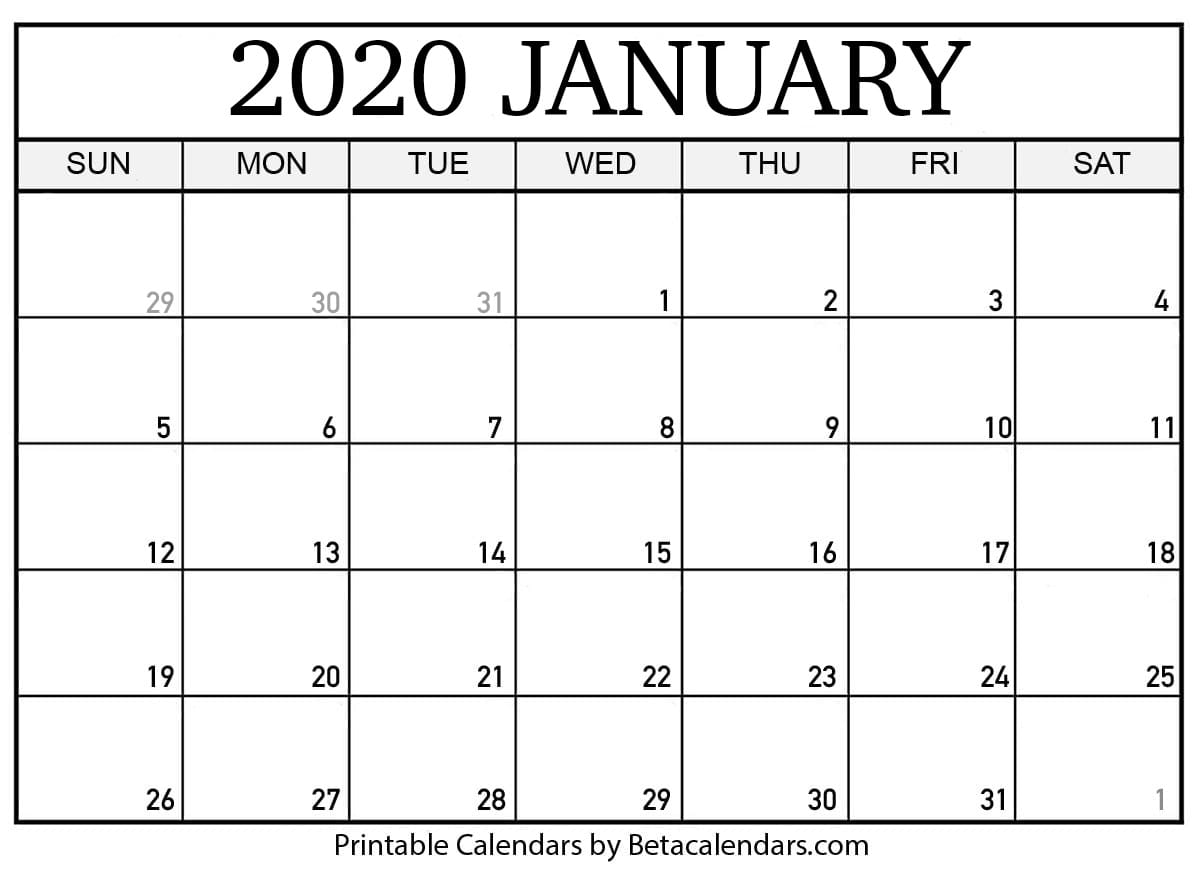 JANUARY HOLIDAYS IN THE UNITED STATES
New Year's Day in the United States
New Year's Day is a national and global holiday celebrated on January 1st, the first day of the New Year.
Many people celebrate New Year's Day with the loved ones, involving traditions, particular customs and gifts meant to bring luck, health and success in the upcoming year. Typically, the customs and traditions of happy New Year's Day involve celebrating with a variety of different foods and drinks.
New Year's is one of the oldest holidays still celebrated, but the nature of the celebrations has changed over time. It originated thousands of years ago in ancient Babylon, celebrated as an eleven-day festival on the first day of spring. During this time, many cultures used the cycle of the Sun and the Moon to decide the "first" day of the year. However then, Julius Caesar implemented the Julian calendar that January 1st became the common day for the celebration.
The content of the celebrations has varied as well. While early ones were more paganistic in nature, celebrating Earth's cycles, Christian tradition celebrates the Feast of the Circumcision of Christ on New Year's Day.
However, in the twentieth century, the holiday created own celebration and mostly separated from the common association with religion.
Today, New Year's Day has become a holiday associated with nationality, relationships and consumption rather than a religious celebration, although many people do still follow older traditions.
If you are in need of planning January and the whole year in advance, it is very useful to use a PDF, JPEG printable calendar. After you download easily a January 2020 calendar printable, you may mark all the holidays on it and waiting for them will be a motivating factor while you are dealing with the responsibilities after a long holiday. In short, all you need is very simple, a January 2020 calendar with holidays!
Martin Luther King Jr. Day in the United States
Martin Luther King Day is a federal holiday observed on the third Monday of January each year. It celebrates the life and achievements of Martin Luther King Jr., American civil rights leader. He is most well-known for his campaigns to end racial segregation on public transport and for racial equality in the United States.
His famous "I Have A Dream" speech was encouraged everyone to be with him to fight for the equality. He was also an advocate of non-violent protest and became the youngest man to be awarded the Nobel Peace Prize. After he was assassinated in 1968, a campaign was started for his birthday to become a holiday to honor him. It is seen as a day to promote equal rights for all Americans, regardless of their own backgrounds. In recent years, federal legislation has encouraged Americans to give some of their time on this day as volunteers in citizen action groups.
Martin Luther King Jr. Day is a public holiday. It is a day off for the general population, and schools and most businesses are closed.
This important day of commemoration is in the 21st of January in this year 2019. If you want to be a part of the observations, do not forget to put a special mark on this day on your blank January 2020 calendar.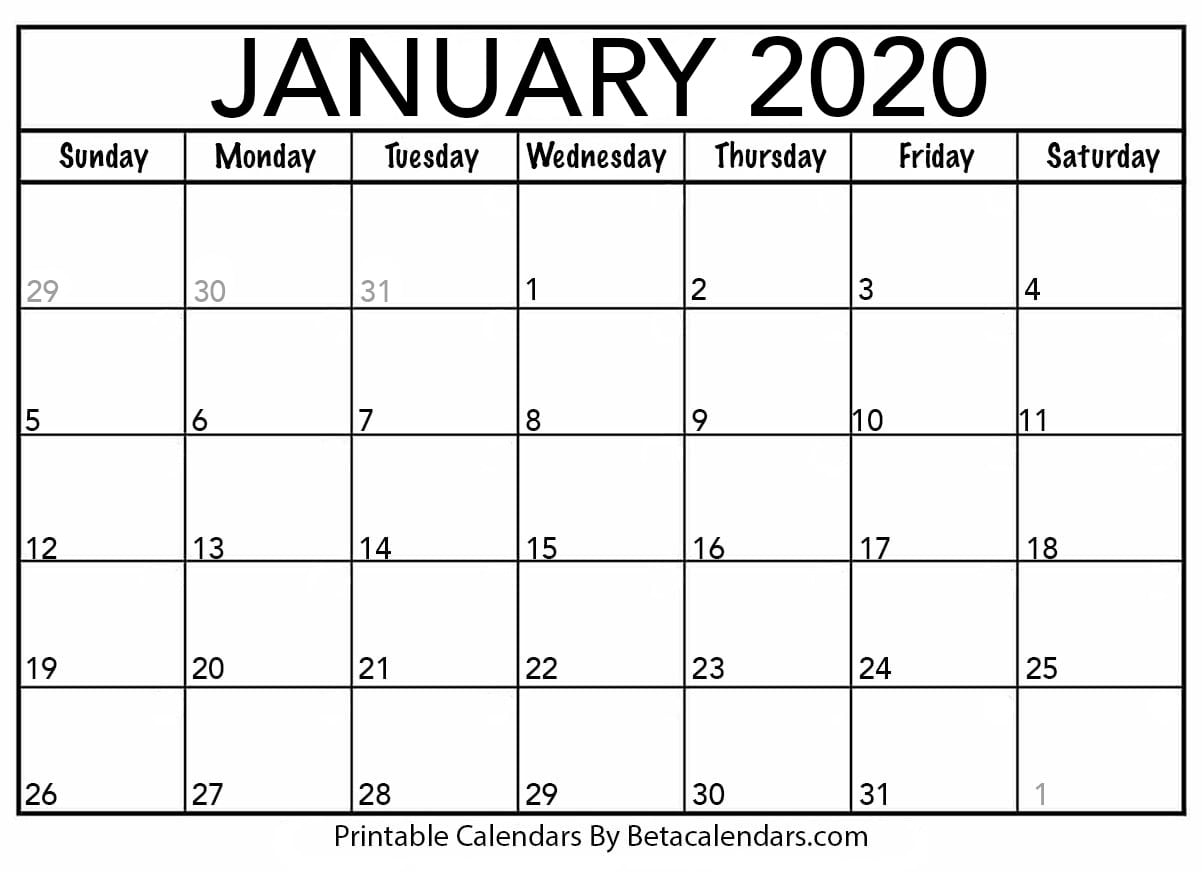 FAMOUS BIRTHDAYS IN JANUARY
Sir Isaac Newton (1643-1727) the famous physicist, who is considered one of the most influential scientists of all time, was born in Lincolnshire, England on January 4th,1643.
Martin Luther King Jr. (1929-1968), who led the African American civil rights movement in the US 1950s and 1960s and won the Nobel Peace Prize in 1964, was born in Atlanta, Georgia on January 15th, 1929. In the US, Martin Luther King, Jr.
Oprah Winfrey who is an American media executive, actress, talk show host, television producer and philanthropist was born in Kosciusko, MS on January 29th, 1954.
Elvis Presley (1935 – 1977), who was born on January 8th, 1935 in Tupelo, Mississippi, was one of the most famous Americans of all time. Elvis Presley, singer, musician and actor.
Wolfgang Amadeus Mozart (1756-1791) was born in Salzburg, Austria on January 27th, 1756.
JANUARY IN HISTORY
January 25, 1964 – The Beatles get their first number one with "I Want to Hold Your Hand" on the Billboard Hot 100 chart.
January 5, 1972 – President Richard Nixon signed a bill approving $5.5 billion over six years to build and test the NASA space shuttle.
January 20, 1981 – Ronald Reagan became President of the United States at the age of 69. He is the oldest person to take over this position.
January 28, 1986 – The US Space Shuttle Challenger exploded 74 seconds after liftoff and killed seven people, including the first ordinary citizen in space, teacher Christa McAuliffe.
January 9, 2007 – Apple introduced the first iPhone which was 4.5-inch x 2.4-inch dimensions. Steve Jobs announced iPhone at the Macworld convention, receiving substantial media attention. After about 6 months from this announcement, on June 29, 2007, the first iPhone was released.