Blank July 2020 Calendar Printable
July – seventh month of the year 
July is the second month of summer and is known for its warm weather. The best thing to do in July is to cool off by swim in the sea or pool, swing in a hammock and take part in parties on a summer evening.
July is the warmest month of the Northern Hemisphere and, on the contrary, it is considered to be the coldest month in the Southern Hemisphere. July is the seasonal equivalent of January of the Northern hemisphere in the Southern hemisphere.
The second half of the year starts with July. In many workplaces, the estimates made at the beginning of the year are reviewed and the course is examined. July is also the month of reviewing decisions taken for the new year. You might even need to do a little revision. Because you may be gone much faster, or slower than you planned.
July is also the month of many festivals and there are many reasons to spend this month full of fun. Because of the all outside activities, beach parties, weddings, national holidays and all kinds of celebrations in July, you can be a little hard to spend time with each event.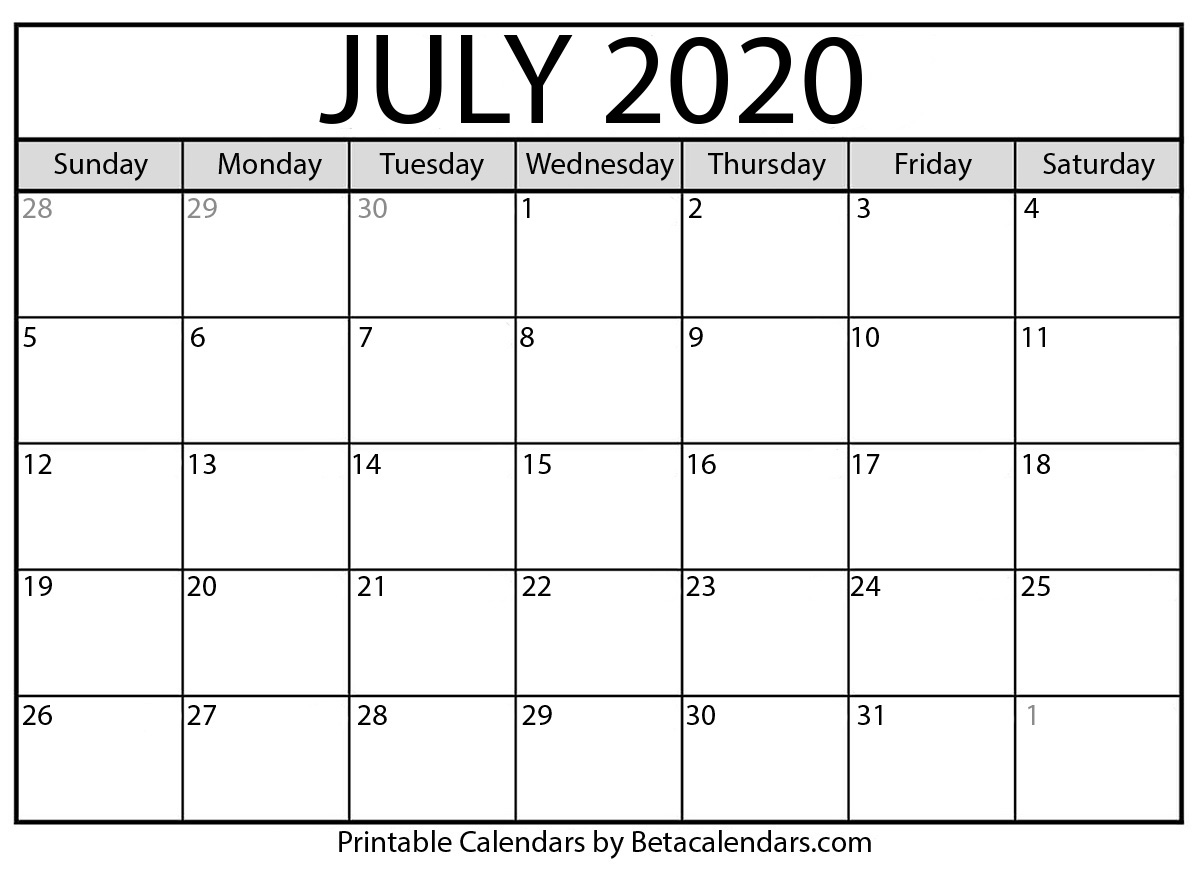 Blank July 2020 Printable Calendar
The biggest helper in this matter is the blank July 2020 calendar. With a July 2020 calendar template, you will see everything in one place and remember at a glance. For example, on a July 2020 calendar with holidays, you can follow not only holidays but events that are of interest to you. Do not forget to download, mark and use a calendar immediately to get ready for July.
HISTORY OF JULY
July was originally the month of Quintilis in the Roman calendar. It was the "fifth" month of the year until January and February were added in the calendar in 450 BC. It got its original name from the Latin word for fifth. Later the name was changed to Julius in honor of Julius Caesar who was born on July 12.
July is the traditional period known as "fence month," the closed season for deer in England. The end of England's High Court of Justice Trinity Term takes place on 31 July. July is also the time in which the elections take place for the Japanese House of Councillors, held every three years and replacing half of its seats. In Ancient Rome, the festival of Poplifugia was celebrated on 5 July, and Ludi Apollinares was held on 13 July and for several days afterwards. However, these dates do not correspond to the modern Gregorian calendar.
Since it is a month that makes us feel that we are heading towards the end of the year because it started in the second half of July, we definitely need to be more planned. Although the high air temperature and being planned may seem incompatible with each other, some extra effort may be required. Fortunately, thanks to PDF, JPEG printable calendar, this is much easier than you think. Download your printable calendar without losing time and easily manage your time!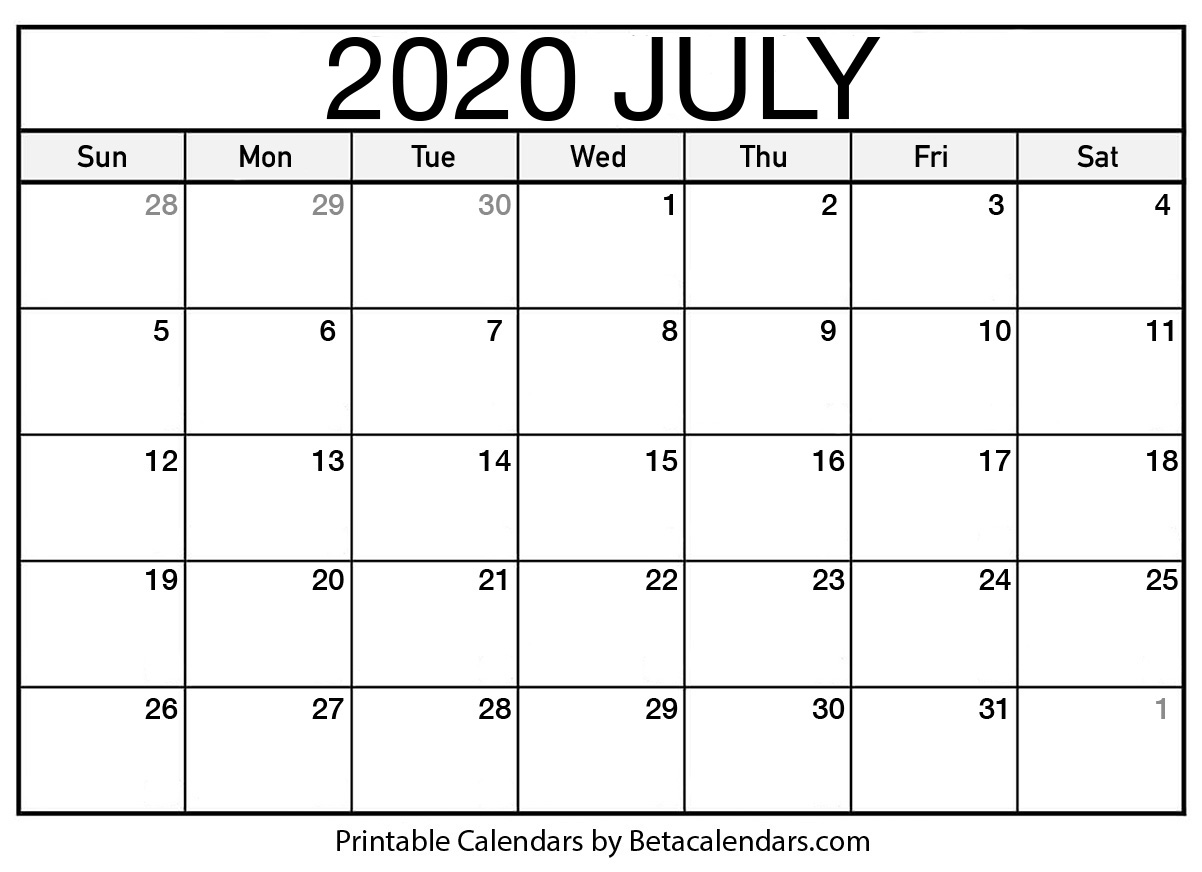 10 FACTS ABOUT JULY
The name of the seventh month of the year – July – was given by the Roman Senate in 46 B.C. in honor of emperor Julius Caesar.
July is the warmest month in the Northern Hemisphere on average. It is similar to January in the Southern Hemisphere.
Sometimes the hot, long days of July are called the "dog days of summer".
There are many countries which have their Independence Day during the month of July. These include the United States, Belarus, Venezuela, Argentina, Belgium, the Bahamas, and the Maldives. The national days for France and Canada occur in July as well.
It is sometimes called the Hay month because the grass dries out due to a lack of rain and can be made into hay.
July's birthstone, the ruby, is often associated with contentment, love, passion, and integrity.
The traditional flower of the month of July is the water lily, symbolizing joyfulness, fickleness and sweetness.
No month ends on the same day of the week as July unless it is a leap year, when January does so.
More US presidents (seven) have died in July than in any other month.
The ancient British called July "Heymonth" or "Maedmonth" referring to haymaking and meadows flowering.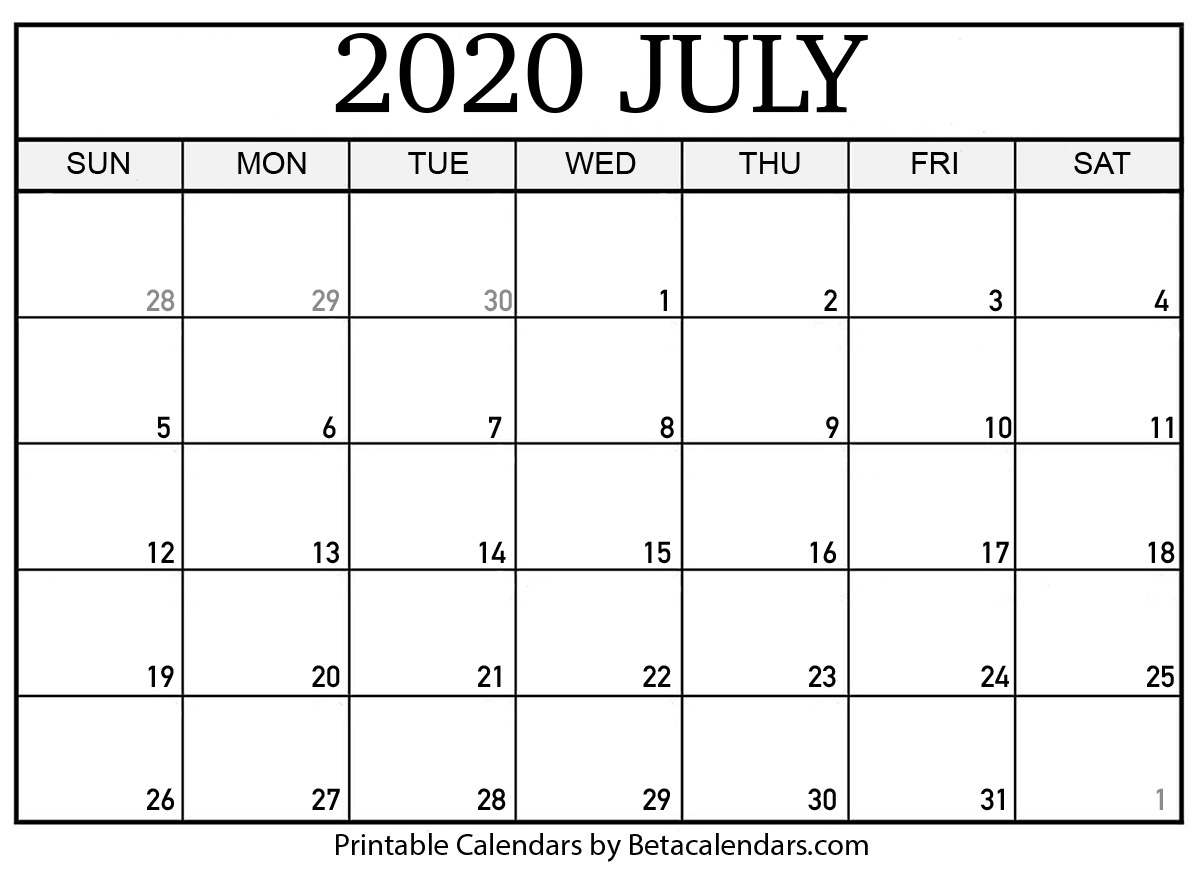 JULY HOLIDAYS IN THE UNITED STATES
Independence Day (July 4th, Thursday)
Independence Day 2020, also known as Fourth of July, is a federal holiday observed yearly on July fourth. It is the anniversary of the publication of the declaration of independence of the United States of America from Great Britain in 1776.
On April 19, 1775, during the Battles of Lexington and Concord (Mass.), the first shots were fired between colonists and British troops, starting the American Revolution. After these first military conflicts, tension between Britain and her American colonists continued to mount. Then, on July 2, 1776, the Second Continental Congress voted for independence from Britain.
Two days later, on July 4, the Congress approved the final draft of the Declaration of Independence, which had been written by Thomas Jefferson and edited by John Adams and Benjamin Franklin. On July 8, the first public reading of the Declaration took place at the Pennsylvania State House (now Independence Hall) in Philadelphia, Pennsylvania. Later that same day, other readings occurred in Trenton, New Jersey, and Easton, Pennsylvania.
In the United States, Independence Day is a federal holiday traditionally celebrated with parades, concerts, fireworks and picnics and barbecues. Many people display the American flag outside their homes or buildings. If Independence Day falls on a weekend, then the previous Friday or following Monday will be a holiday. As this is a Federal holiday, not only will schools and libraries be closed. Most federal and state offices will also be closed and there will be no mail deliveries on Independence Day.
In order to attend the events organized for Independence Day, you need to reserve this day on your July 2020 calendar printable.
International Day of Friendship (July 30th, Thursday)
The International Day of Friendship is a United Nations (UN) day that supports the role that friendship plays in promoting peace in many cultures. Before the 30th July was first declared as the International Day of Friendship by the General Assembly of United Nations in 2011, the original idea for a day of friendship came from Hallmark cards in the 1930's, many years ago. It was originally celebrated on 2nd August, the day was largely viewed cynically by the public as a commercial exercise, sales of friendship day cards did not take off in Europe and by the mid-1940's the day had become unstable in the USA. The idea of a day to honor friendship was, however, adopted by a number of countries in Asia where it remained a popular custom to reserve a day for celebrating friendships and the exchange of gifts between friends.
The first World Friendship Day was proposed for 30 July 1958 by the World Friendship Crusade, an international civil organization that campaigns to foster a culture of peace through friendship.
Thanks to the growing popularity of social media throughout the world, there has been an important increase in celebrating World Friendship day and International Day of Friendship online as well as in community activities in local communities aimed at gathering ones of different backgrounds together.
If you are a "friendly" person who always says friendship is very important, don't forget to spend this day with your friends (by building new memories)! All you have to do is mark this day on your July 2020 calendar printable!
National Parents' Day (The Fourth Sunday in July)
Parents' Day celebrates the importance of the role of responsible parenting in family life each year on the fourth Sunday in July. Families are the smallest unit of the society and a primary human institution. Priority of a family is to be together through unconditional love and commitment.
Parents' Day was established in 1994.  In a period of time where society became gradually self-centered, President Bill Clinton signed a congressional resolution to celebrate Parents' Day aiming to promote family commitment and parental responsibilities.  Supported by the Unification Church, Senator Trent Lott introduced the bill into the senate and the National Parents' Day Coalition was developed to support Parents' Day by annually selecting 'Parents' of the Year' at local, national and state levels.  The Coalition also ensures educational programs for parents and aims to promote the stability of family by encouraging constancy between husbands and wives, and of marriage between young people.
National Parents' Day is not a day of gift giving. Gifts are already given on Mother's Day in May and Father's Day in June. The best way to observe this day is doing something fun by spending time with your parents. It's also of paramount important that you make them know how much they are loved and appreciated.
This year in 2020 National Parents' Day will be celebrated on July 26th 2020, Sunday.
If you want to spend this special day with your parents or take a trip down memory lane, you may put a sign on your printable calendar.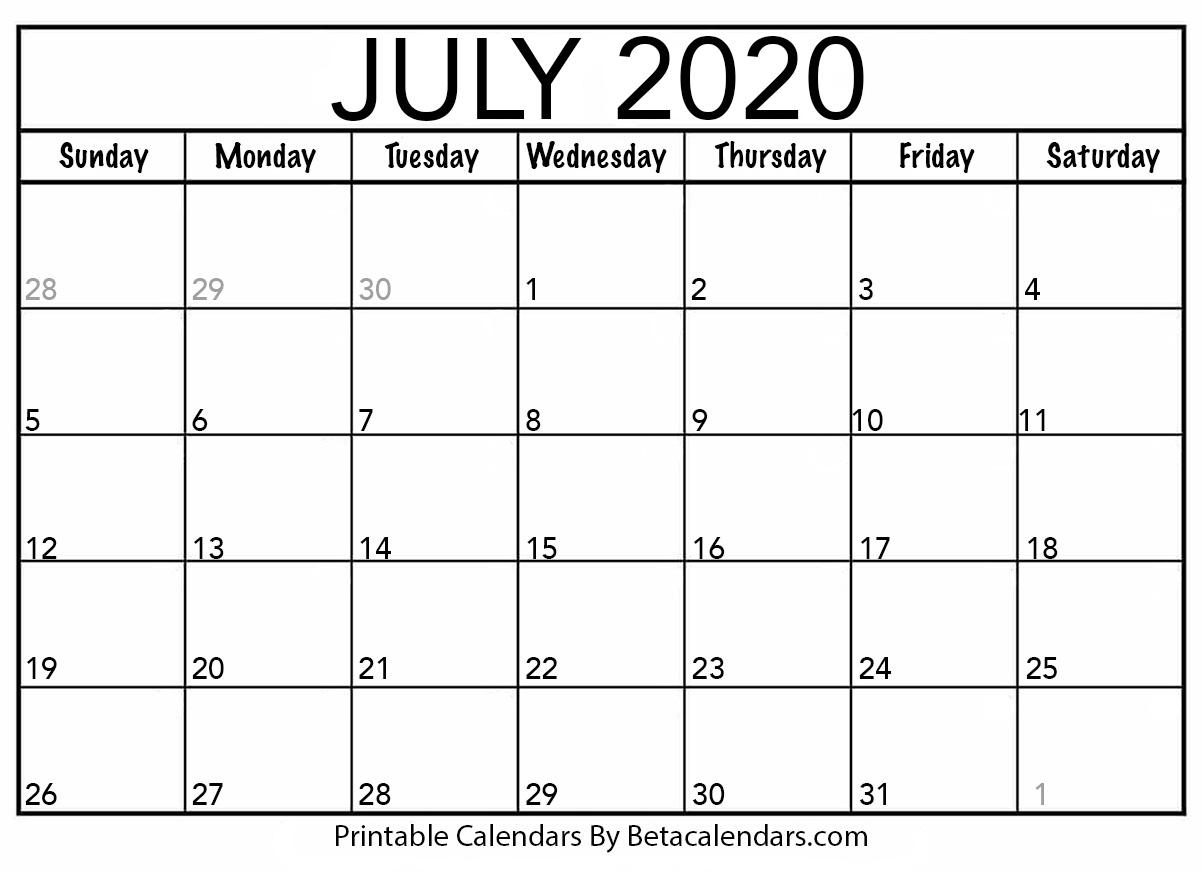 FAMOUS BIRTHDAYS IN JULY
July 6, 1946 – George Walker Bush who is the former (43rd) President of the United States was born in New Haven, Connecticut.
July 10, 1856– Nikola Tesla who was a Serbian-American inventor, best known for his development of alternating current electrical systems was born in Smiljan, Austrian Empire (now in Croatia).
July 18, 1918– A Nobel laureate, Nelson Mandela who was the man responsible for overthrowing apartheid & unifying the country of South Africa was born in Mvezo, South Africa.
July 21, 1899– Ernest Hemingway who was a Nobel Prize-winning American writer was born in Cicero (now in Oak Park), Illinois.
July 26, 1943– Mick Jagger who is an illustrious musician, songwriter, singer, actor and the founding member of 'The Rolling Stones' was born in Dartford, England.
July 6, 1907– Frida Kahlo who was a renowned Mexican artist, well known for her self-portraits was born in Coyocoan, Mexico City, Mexico.
JULY IN HISTORY
We have listed here the major July events in history for you to take a look at them before filling your blank July 2020 calendar with your major events!
July 2, 1964 – The Civil Rights Act of 1964 is signed into law by President Johnson.
July 20, 1969 – The Apollo 11 astronauts made history when the first man is landed on the moon by the United States and Neil Armstrong and Edwin 'Buzz' Aldrin became the first humans to set foot on the Moon leaving the first human footprints in its dusty soil.
July 13, 1985 – 1985 The Live Aid Concert was a series of rock concerts held to raise funds for famine relief in Ethiopia around the world in cites including London, Philadelphia, Sydney and Moscow.
July 5, 1996 – The first cloning of an animal by scientists was revealed by the Roslin Institute in Scotland when Dolly the Sheep was cloned from tissue from a 6-year-old ewe's udder.
July 7, 2007 – Seven Wonders of the Modern World is announced.