Blank March 2020 Calendar Printable
March – Third Month of the Year
March is the third month of the year in the Julian and Gregorian calendar that consists of 31 days. It was the first month of the year in the 10-month Roman calendar. It is considered the seasonal equivalent of September in the opposite hemisphere.
March starts on the same day of the week as February and November and ends on the same day of the week as June in common years.
March is the first month of spring. Although the air temperatures have risen, the first two weeks of March are like Winter and the last 2 weeks as Spring. In fact, the official beginning of spring is March 21 equinox.
So, March is an unstable month in terms of climate. In this month, you can wear both boots and slippers, and t-shirts and coats, you can wear gloves, you can be an umbrella addict, you can even sunbathe and play with snow. While the weather is uneven, this is often reflected in our mood. Hot and sunny months are about to come, but on the other hand, the year passes rapidly. We didn't understand January and February was already short, but after 31 days in March, the New Year is no longer "new" to us. For this reason, it is natural to be a little worried and low motivated. But we should immediately revise our plans without being affected by this, and we must mobilize ourselves with the similar energy at the beginning of the year.
Honestly, there's no need to exaggerate that, we've got another nine months ahead of us, right? A very bright idea may not have been implemented or your decision may not have been put into practice yet, but remember, you can adopt and implement them from now on, it is not late for anything!
Blank March 2020 Printable Calendar
Therefore, it is the right time to have a good printable calendar to keep yourself on track.  You cannot believe that an ordinary March 2020 calendar template will make you more motivated and readier to plan anything as you wish. Do not hurry up so much and do not waste your time at the same time, you can build this balance with a help of a good assistance, of a blank March 2020 calendar!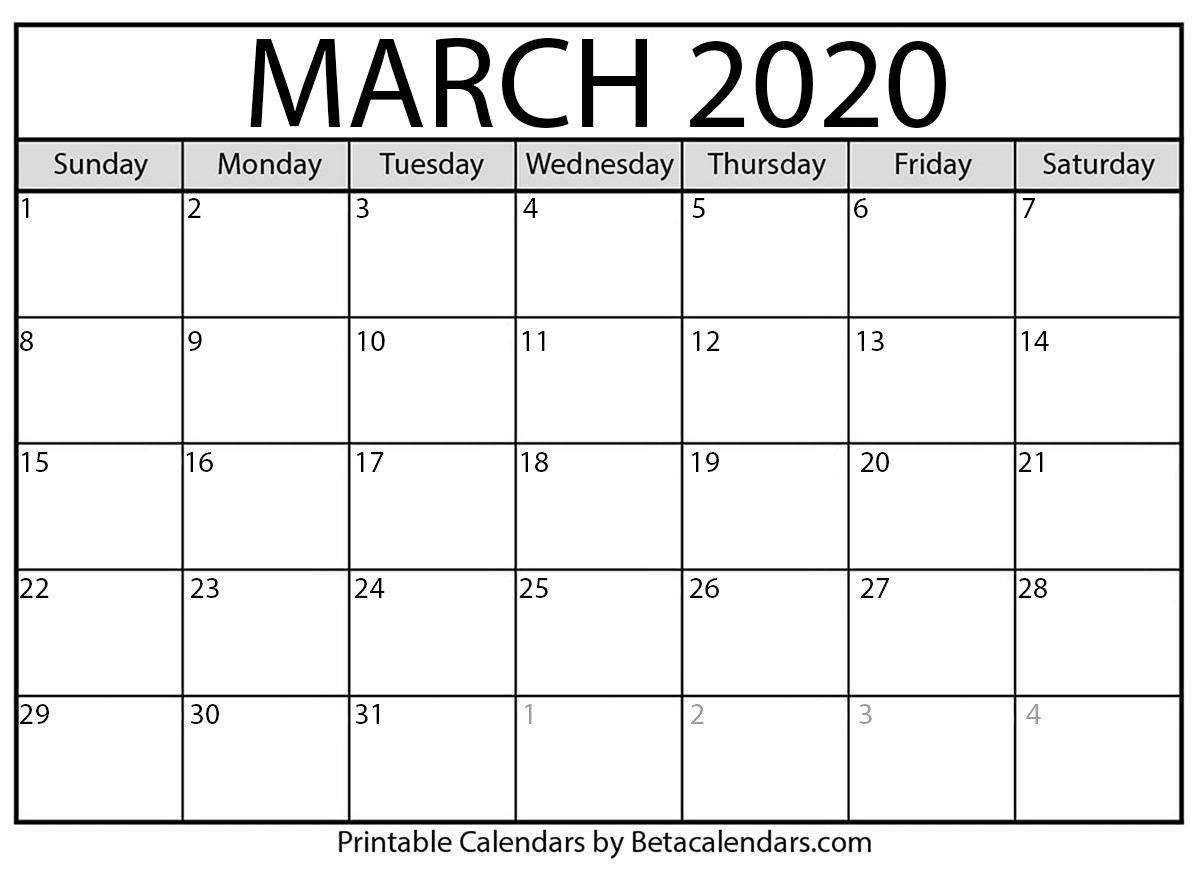 HISTORY OF MARCH
March was the first month of the year in older versions of the Roman calendar because of its association with the first day of spring. January and February were the months of winter and winter was accepted as a monthless period at that times.
The March equinox occurs during this month on 21st day. After January became the first month of the calendar year around 700 BCE, January 1st is accepted as New Year's Day instead of March. However, many cultures and religions still celebrate the beginning of the new year in March.
March also marked a time when war would resume after the winter months.
"March", the English name of the third month of the year, comes from "Mars", the name of the Roman god of war (the Latin name of the month was martius, meaning "of Mars"). In other languages March presents different meanings. For example, in Finnish, the month is called maaliskuu, which is believed to originate from maallinen kuu, during March, earth finally becomes visible under the snow.
Or in Ukrainian language, the month is called березень/berezenʹ, meaning birch tree, and březen in Czech. In Slovene, the traditional name is sušec, meaning the month when the earth becomes dry enough so that it is possible to cultivate it. Belarusian sakavík is derived from sok, "juice" or "sap", because trees start to give sap. Lithuanian kovas may be derived from the noun kovas, referring to a species of bird called "rook" in English, or the noun kova, meaning "fight, struggle". The Sami names mean "swan month". The Võro version means "catkin month". The Karelian version means "spring month". The Komi expression means "crow month". The etymologies for other Uralic languages, such as Nenets, are hard to find due to a very limited number of resources. März in German, Mars in French, Mart in Turkish, Marzo in Spanish and in Italian have the same origin that comes from "Mars" the Roman god of war.
In March, especially in the last weeks of March, the outdoor activities begin you may start to have invitations for weekend or long-weekend activities and vacations. If you want to manage your schedule you may download a PDF, JPEG printable calendar or a March 2020 calendar with holidays, you may organize your attendance and ready to join more events beforehand.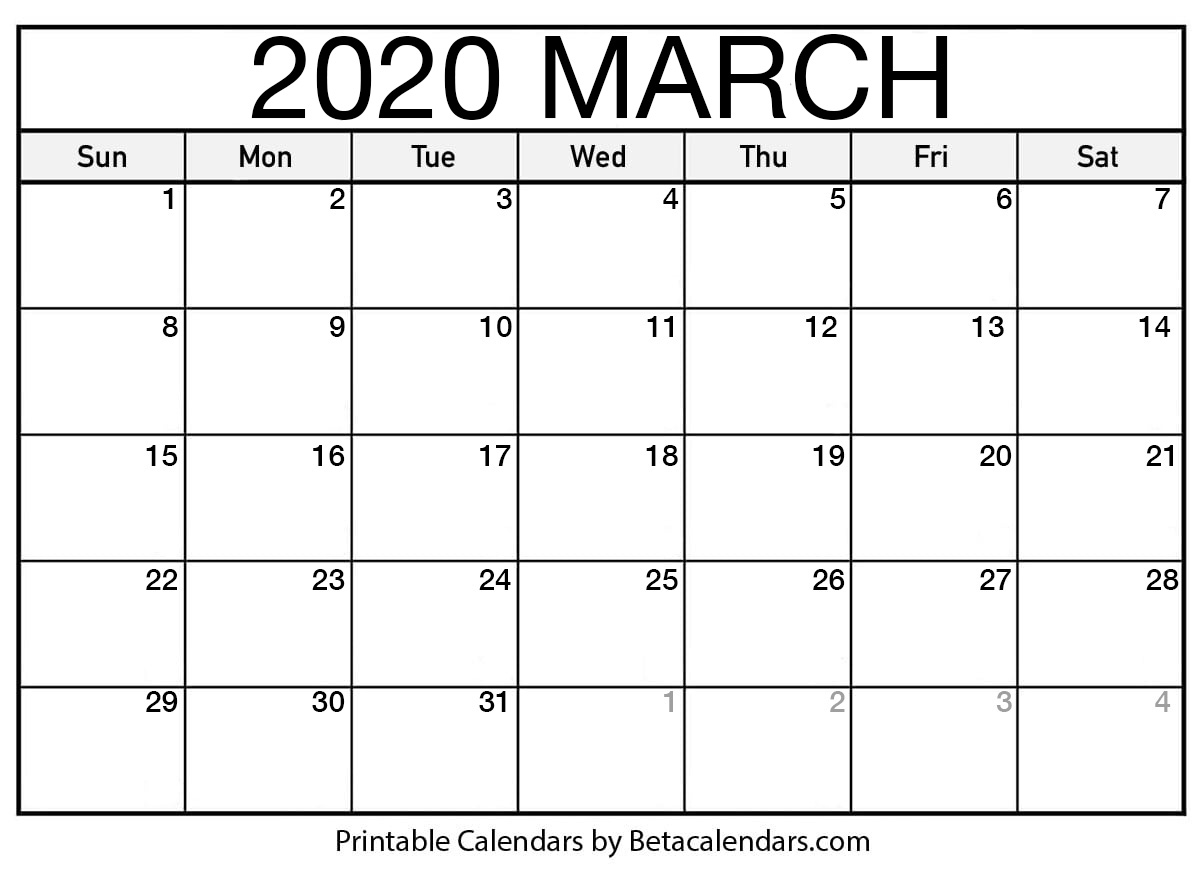 10 FACTS ABOUT MARCH
According to the oldest Roman calendars, one year was ten months long, beginning in March and ending in December.
Each year March and June end on the same day of the week.
It is the time of year when animals start to wake up from hibernation.
March was known as Hlyda, or Lide in Old English, which means 'loud. This was referring to the March winds, which were very noisy.
It was on 15 March 44BC that Julius Caesar was assassinated in the Senate chamber in Rome. The assassination was led by Marcus Junius Brutus. "Even you, Brutus?"
The flower of March is the daffodil, and the birthstone is the aquamarine
An old proverb says, "March comes in a like a lion, and goes out like a lamb," which is reference to winter ending and spring beginning. Another popular saying is "March is mad as a hare," which is a reference to the animals fighting each other.
March is the only month with three consecutive consonants in its name in English.
Alexander Graham Bell made the first ever phone call on 10 March 1876. He called his assistant and said "Mr. Watson, come here. I want to see you."
There is a big basketball tournament held called "march madness" whichis the National Collegiate Athletic Association (NCAA) Division I Basketball Championship and lasts from mid-March to early April.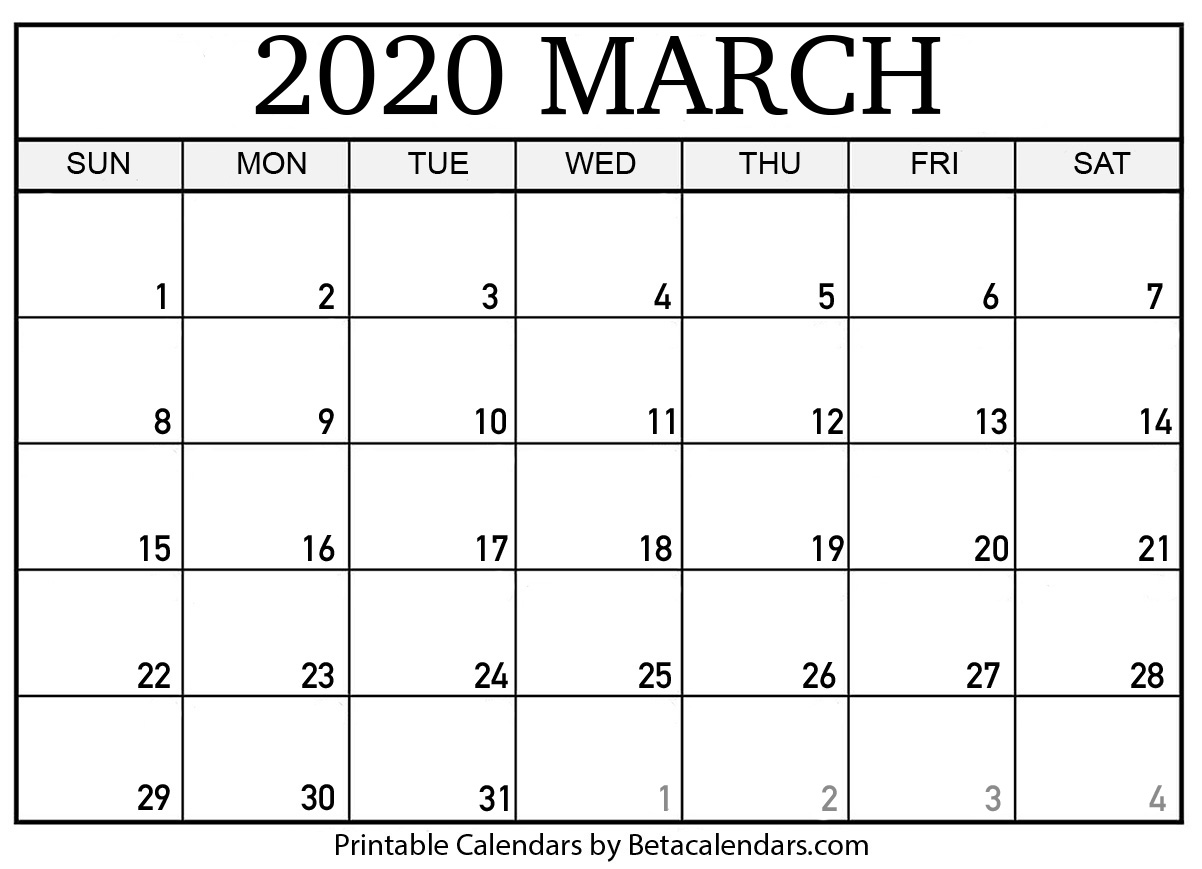 MARCH HOLIDAYS IN THE UNITED STATES
Fat Tuesday (February 25, 2020, Tuesday)
Fat Tuesday, also called Pancake Day, Pancake Tuesday, Shrove Tuesday and Mardi Gras (which is French for "Fat Tuesday"), is the last day of feasting before Lent begins on Ash Wednesday. The date of Fat Tuesday may vary each year between February 3rd and March 9th.
While there are carnival festivals in many countries on Fat Tuesday, in the English-speaking world the term is particularly associated with the "Mardi Gras" carnival celebrations in New Orleans, Louisiana, USA. Recently the term "Mardi Gras" has evolved to refer to the whole period of festivities, not just the single day of Mardi Gras/Fat Tuesday. Fat Tuesday 2020 is on Tuesday, February 25.
Mardi Gras may be an ancient celebration but there's always some new to discover at this time of the year. Celebrations are   always very attractive and attendance are always huge.
Do not miss the celebrations if you are one of the fans of this carnival season, put a special mark on your March calendar and wait for it!
Patrick's Day (March 17th every year)
Saint Patrick's Day is an Irish based cultural day held for honoring of St. Patrick, patron saint of Ireland. St. Patrick was born in Roman Britain in the late 4th century, he was kidnapped at the age of 16 and taken to Ireland as a slave. Then he escaped but returned about 432 to convert the Irish to Christianity.  By the time of his death on March 17, 461, he had already established many of monasteries, churches, and schools to be in service of Christianity. There are many legends told about him that one of them is his droving the snakes out of Ireland and using the shamrock (main symbol of St. Patrick's Day) to explain the Trinity.
It was emigrants, particularly to the United States, who transformed St. Patrick's Day into a largely secular holiday of celebration of things Irish. Cities with large numbers of Irish staged the most extensive celebrations, which included elaborate parades. Boston held its first St. Patrick's Day parade in 1737, followed by New York City in 1762.
International Women's Day (March 8th every year)
International Women's Day is a time to picture the progress, to call for change and to celebrate acts of courage by ordinary women who have played an extraordinary role in the history of their countries and communities. The 2020 theme of International Women's Day is "Think equal, build smart, innovate for change". It focuses on gender equality and the empowerment of women in innovative ways. In this day, many schools set special lessons about the importance of women in society, their influence, and issues that affect them. The women teachers are honored within this way by the students and school itself. Many workplaces organize special celebrations about International Women's Day through internal newsletters or notices, or gifts to the women employees.
If you want to think or remember about all the women in your life and present them your appreciations, mark this day in advance on your blank March 2020 calendar!
FAMOUS BIRTHDAYS IN MARCH
March 14, 1879 – Albert Einstein, physicist was born in Ulm, Germany
March 21, 1685– Johann Sebastian Bach, musical composer was born in Eisenach, Germany
March 30, 1853 – Vincent van Gogh, painter was born in Zundert, Netherlands
March 31, 1596– René Descartes, philosopher, mathematician was born in La Haye, France
March 27, 1963– Quentin Tarantino, actor, director was born in Knoxville, Tennessee
March 30, 1968– Celine Dion, singer was born in Charlemagne, Canada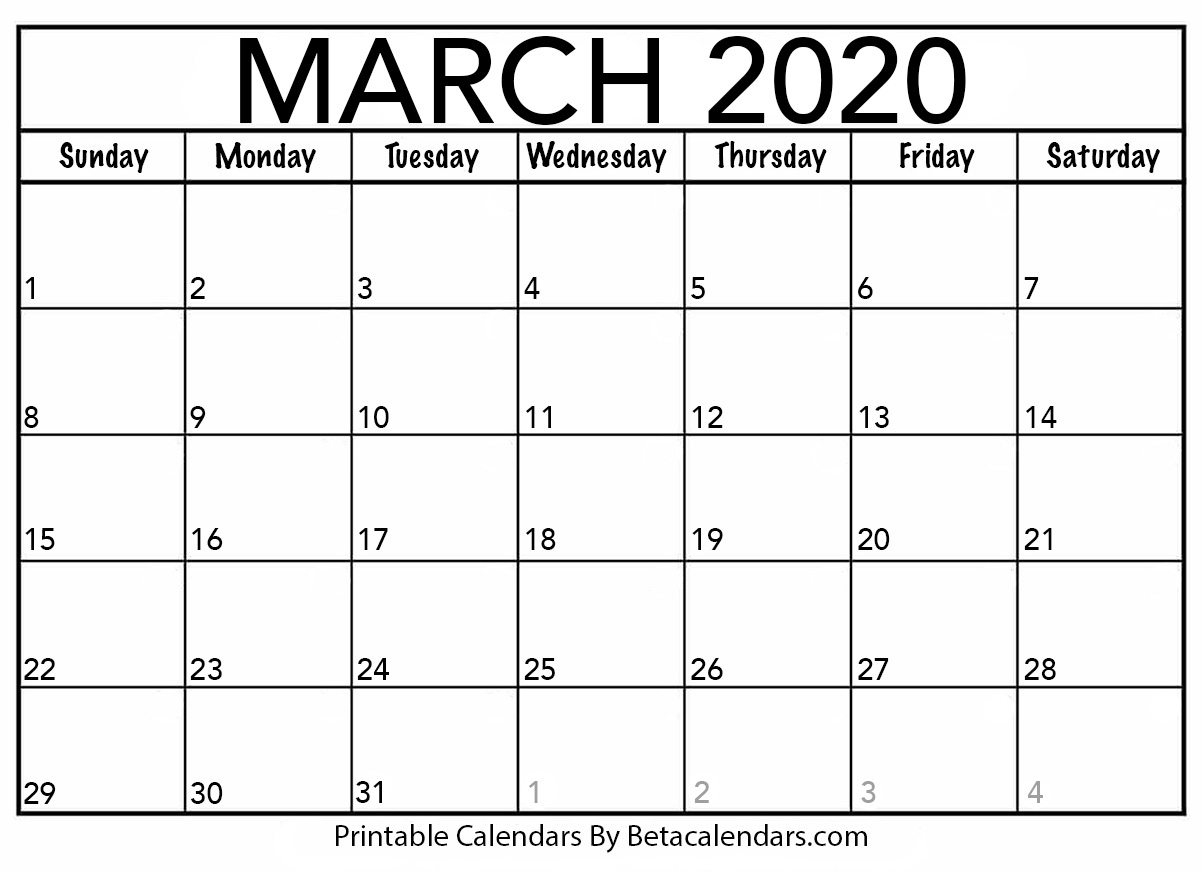 MARCH IN HISTORY
Would you like to take a glance at the major March events in history? Then you may write your own history by using your March 2020 calendar template!
March 10, 1862 – The first issue of U.S. government paper money occurred as $5, $10 and $20 bills began circulation.
March 29, 1886 – Coca Cola is invented by Dr. John Pemberton the pharmacist.
March 15, 1998 – The Movie Titanic surpassed Star Wars to become the highest grossing film in North American box offices.
March 24, 2005 – The PlayStation portable is released.