Office workers are no stranger to weekly schedule templates. This is why it is just natural for them to look for free weekly calendar in their office printer. You should also be looking for the same thing when you need to print a weekly schedule. You may not print one often, but when you do, your template must be present and handy. The best part about these templates is they are in plain and easy schedules that anyone can easily print in his or her office printer.
If you want to plan your stuff, the concept of weekly calendars will be indispensable for you. Tasking your works and plans regulary is a kind of important requirement under today's world and business conditions. Because, we have less time when compared to the past times and we need to plan our works quickly and efficiently. So, the concept of online calendars is so helpful for people to arrange both business and family works.
There are so many online calendar applications in the markets that you may not know which one to choose. They are not only basic calendars because each has its own characteristics and none of them are the same. The reason for this is that not every person's needs are the same. Every person has different goals, goals, needs and jobs. While some of us are running from meeting to meeting, some of us are looking for a calendar application that will manage our family life. At least one of the many applications that offer different features can meet your needs and make your life easier.
Where can I use weekly calendars ?
With smart phone, tablet, laptop, we are going to a world where we are more mobile every day. The time we spend working at a desk is gradually decreasing. Smart devices are now almost the best friends of business life. Even smartphones or tablets can handle most of the assistantships. There are many applications to make professional life easier. The application, which can be downloaded in a few seconds, can save several minutes of time, even in one day.
Smart calendar applications are the most important applications in business life. These applications, which give users recommendations according to the calendar program, are key to saving time. Other applications used in business life include taking notes and reminding notes. These applications, as well as taking notes, users are reminded at the interval they want. On the other hand, e-mails, which are at the top of the issues in which the business world is most afflicted, are made much easier with smart device applications. Especially, the weekly calendars are used by the business people or students under today's globalizing world conditions.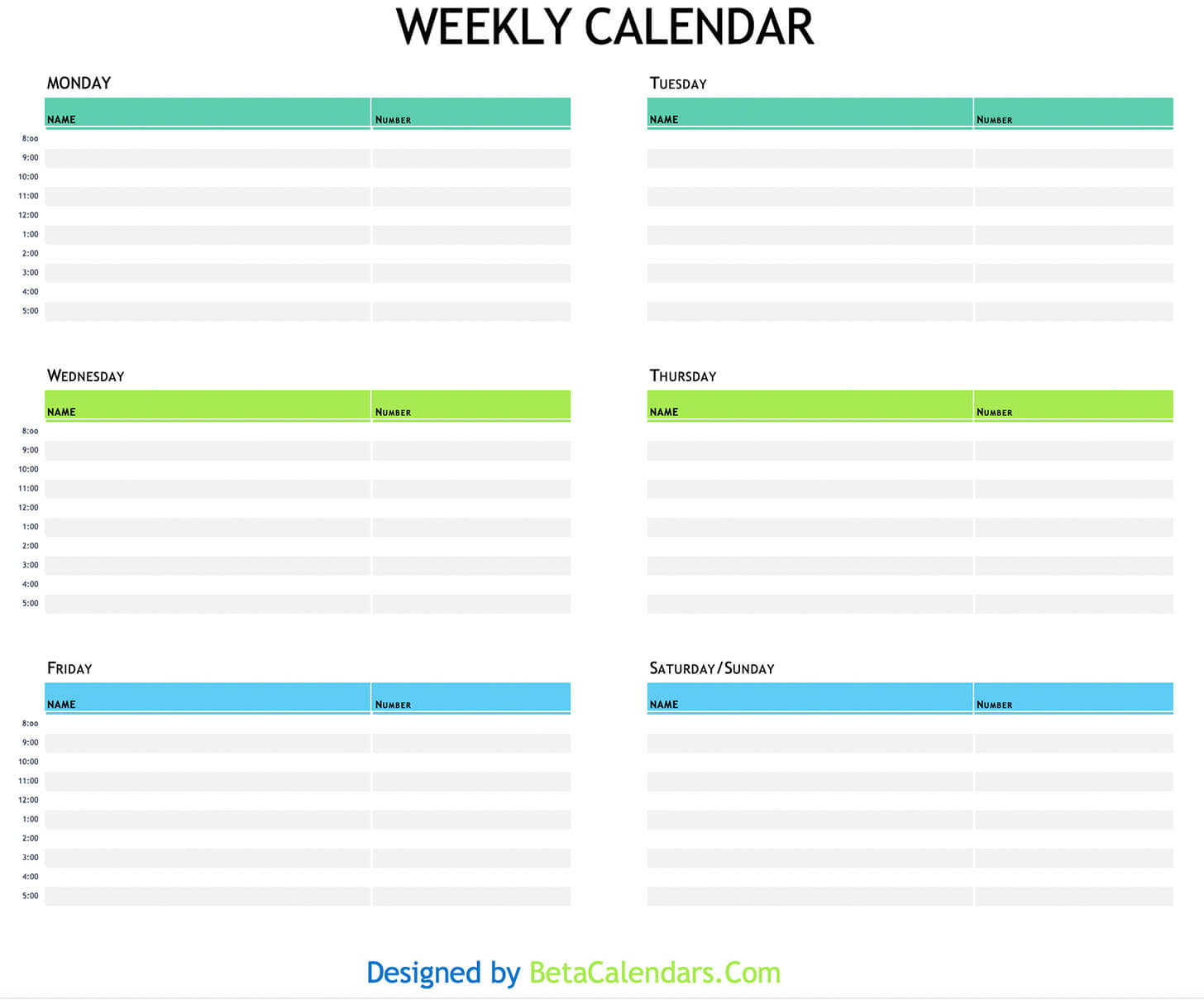 The best weekly calendar templates
If you are looking for a ready weekly calendar template, you are on the right place. Check the best and free weekly calendar templates on our website easily and download them in seconds. The most important and cost effective features of ready-made templates is that it eliminates the need for a professional designer. It is possible to easily find ready-made calendar templates in many different sizes and features on our website. The calendars will also have visuals symbolizing each month. If you prefer to use ready-made photographs instead of these visuals, you will not have to grapple with the slightest technical details about the design.
Printing is one of the most important issue for the concept of using ready weekly calendar templates. These ready-made templates were also created by expert designers. As long as you pay attention to the edge dimensions, it is almost impossible to see a different result after printing. Because these templates have been prepared carefully considering the printing stage. You can achieve very successful results by using ready-made templates and you have created an exquisite calendar. You have minimized the time and cost of designing. Now it's time to increase your revenue with calendars that you print. Professional and attractive calendars are used by more people.
Printable weekly calendar
The printable weekly calendars are generally ready templates in order to use them for calendar purposes. A calendar shows the days of the week and the months of the year. Weekly calendars can last five or seven days, and monthly calendars show the whole month at once. Calendars are especially useful for many purposes for planning, tracking assignments, and scheduling appointments / meetings. There are some important points to consider while choosing a printable weekly calendar.
Calendars are a popular marketing tool, so many businesses will print a calendar for the new season for a few good reasons. Also, everyone use them for planning purposes. Poor quality images often appear blurry or pixelated when printed. Whenever possible, try to use only high-quality, uncompressed image file formats or vector images as recommended by the printing press. By analyzing your audience, it is better to choose the type of calendar printing, or in many cases, it makes more sense to have calendar printing in different alternatives. Probably a ready-made printable calendar template will meet your needs. It will be easier to customize the previously made template to your own wishes than to design a new one.
Blank weekly calendar
It's too easy to download blank weekly calendar templates online. Calendar is a time tracking product that you can follow the days in at least 1 week period. Blank calendar templates can include all days of the month in one page, depending on the design, or the calendar shows one day on each page. Today, calendar is used as a marketing tool and planning in different countries all over the world under today's conditions. If you are using blank calendar templates, it would mean that you will make your own design. There are a lot of professional softwares to make a design for calendars.
One of the most important factors in design is to be creative. Stay away from imitations to be creative. Being patient is the basic feeling of design. Because there is no rule that the things you do or try will always be appreciated. You may need to change many times over your design. Check out the designs of the best designers in newspapers, magazines and the world. Don't limit yourself to a topic. Explore everything that can inspire you to develop your own creativity. The more visuals you see before designing, the more imitations you try to avoid being original. Finally, you can download a blank weekly calendar on our website easily and start your own calendar design in minutes.